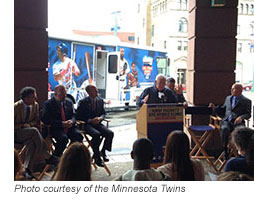 JCAHPO applaudes the tremendous efforts of Phillips Eye Institute in Minneapolis, Major League Baseball, and the Minnesota Twins!
As most of you know, the JCAHPO office is located in St. Paul, Minnesota, so you can imagine our excitement when we heard the news that Major League Baseball's All-Star game would be held here on July 15! We're proud of our hometown and even more proud of our hometown heroes, including former Minnesota Twins baseball player, Kirby Puckett.
What most of you might not know, is Kirby's career abruptly came to end when he was diagnosed with glaucoma at age 35. After his diagnosis, and right up until his untimely death in 2006, Kirby was an advocate for preventative eye health.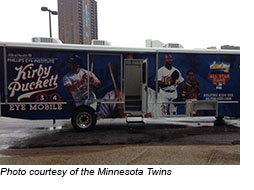 But Kirby wasn't just a Minnesota favorite. He was a favorite player throughout the league and because of that, MLB and the Minnesota Twins recently announced the most extensive community legacy funding effort in All-Star game history! Part of this funding will go toward the creation of the Kirby Puckett Mobile Eye Clinic, which will be part of the Kirby Puckett Education Center at the Phillip's Eye Institute. The mobile eye van will provide preventative eye care to more than 43,000 uninsured or under-insured children and adults throughout Minnesota.
On Friday, July 11, the Mobile Eye Clinic was dedicated as part of the week long community festivities leading up to the all-star game and we were there to share in the excitement! Congratulations Phillips Eye Institute! (Photos coming on Friday!)
To read the full article and learn more about the Kirby Puckett Mobile Eye Clinic, please visit the Phillips Eye Institute website at: http://www.allinahealth.org/ahs/pei.nsf/page/Kirby_Puckett_Education_Center