ANNUAL MEETING Registration is in full swing for the 42nd Annual Continuing Education Program. We hope you will be joining us at the Hilton Chicago Hotel for the world's largest CE program for ophthalmic medical personnel. You can stay up-to-date on all things "meeting related" by visiting jcahpo.org/ace2014. The meeting website will keep you abreast of sold out courses, speaker changes, and any last-minute information you'll need to ensure a stress-free experience.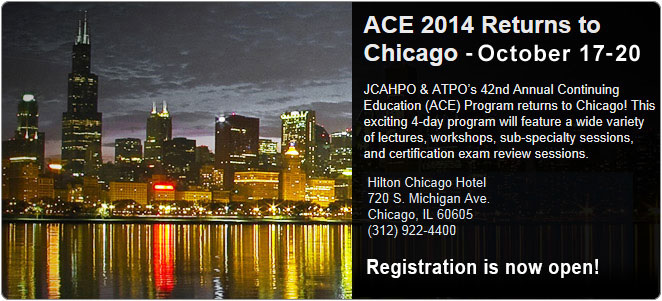 We will also be posting the information for the meeting's mobile app on this website. The mobile app will let you build a schedule, set alerts, search for courses by title, course number, and/or instructor name, and allow you to upload photos to share with other attendees.

Registration fees increase after August 24, so register today and save up to $140.



---
JCAHPO's newly-revised CE website, EyeCareCE (formerly ACTIONED®) debuted in June. With more than 270 sources and 20 content areas, eyecarece.org is the most comprehensive online CE website available. We've partnered with six other organizations to bring you courses for the entire eye care team. Look at all the new features EyeCareCE offers and then give it a try-You're going to like what you see!

• Over 270 courses with 30 brand new courses
• Glossary of ophthalmic terms
• Free courses for learning/training (quiz for CE Credit includes a fee)
• Purchased courses remain accessible for one year
• Purchase history is instantly available via stored copies of your receipts
• Quizzes now offer direct feedback, letting you know which questions you answered correctly and incorrectly
• Unlimited quiz attempts
• Text-based courses can be completed on an iPad or iPhone (Video courses cannot)
• Quizzes can be started, saved, and completed at a later date


Our online store is open for business! Now you can purchase all those books, pocket guides, flashcards, study guides, CE courses,and more online. See what others are buying – find out what's on special – get suggestions on similar products – see our bestsellers... Shop the EyeCareCE Marketplace now! If you're in a hurry to receive your materials, you can choose Priority Mail delivery (2-3 days) or, if you prefer, UPS Ground Shipping is also available. For overnight orders, please call us at 800/284-3973, ext. 227, to receive a shipping quote


---