From the President
We Salute Our Troops and
Those Who Serve Our Country!
Happy Independence Day!
I am pleased to announce that military personnel in the United States and Canada will receive a 40% to 50% discount on certification application fees. In May, JCAHPO's Board of Directors took official action to discount certification application fees for initial examinations at all core certification levels for military personnel in the following areas: Active Duty, Contract Military, Veterans' Affairs, and Military Veterans.
JCAHPO has always worked with military personnel during active duty who requested special consideration for certification applications and recertification. Individuals who may serve in other foreign services may contact JCAHPO for the fee schedule. We will continue to accept special requests for recertification extensions with no fees for active duty military that are deployed overseas.
For more than ten years, JCAHPO has been recognized by the United States Veterans' Administration and participates in its education and certification veterans' benefits program. Military personnel and veterans can make application for reimbursement of their education, continuing education, and certification expenses by approved certification providers. U.S. military personnel can access this education and certification information at the United States Department of Veterans Affairs. Specific JCAHPO certifications are listed by name, such as Certified Ophthalmic Technician, and can be accessed here.
For Canadian veterans benefits, visit the web site.
Now, it is official! The new certification fees for our Troops and personnel serving our countries are as follows:
Certified Ophthalmic Assistant (COA®) - $150

Certified Ophthalmic Technician (COT®) - $175

Certified Ophthalmic Medical Technologist (COMT®) - $200

Recertification Fees Every Three Years - $115 (no change)
ATPO's Career Connection is an additional resource for Job Seekers and Employers seeking a job or a new employee, respectively. ATPO and Local EyeSite have partnered to bring the most comprehensive online employment network for eye care professionals with the Career Connection. Hundreds of job openings in the United States and Canada are posted daily. Employers can easily post detailed information on their position and you can search by job position, location, and key word. Visit the Career Connection.
The Veterans Job Bank is also a resource for veterans who are seeking jobs. Job vacancy listings are flagged with a "Veteran Commitment" tag, indicating high consideration of veterans for the position. Job Listings can be searched by Military Occupation Code (MOC), key word and/or ZIP code. Employers can post jobs to be included in the Veterans Job Bank's search results by e-mailing your website's domain name to the National Resource Directory (info@nrd.gov) or posting your vacancy on a job search website that supports employers in this effort. For more information, visit the Veterans Job Bank and click on "Instructions for Employer Participation."
U.S. employers can benefit from tax credits for employing veterans under new legislation passed in November 2011. The "VOW to Hire Heroes Act" provides tax credits at various levels: up to $2,400 for hiring veterans who have been unemployed for more than four weeks but less than six months, up to $5,600 for hiring veterans who have been unemployed for at least six months, and up to $9,600 for hiring veterans with service- related disabilities who have been unemployed for at least six months.
2012 Save the Date!
Chicago, Illinois, November 9-12

Registration fees increase after August 29 - save money during Early-Bird registration! Registration form and payment must be received (not postmarked) on or before the deadline to qualify for the respective registration fees.
July 9 - August 29: Early-Bird Registration
August 30 - October 3: Pre-Registration
October 4 - November 8: Registration closed
October 8: Changes/cancellation deadline
November 9 - 12: Onsite Registration at the Hilton Chicago
Hotel reservations must be made through the AAO Housing Bureau. Housing opens on June 27th to Academy & AAOE members and on July 11th to non-members (ophthalmic medical personnel).
Call for Instructors!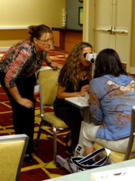 Looking for a fun and great way to earn CE Credit and take the next step in enhancing and growing your career? Volunteer as a workshop instructor during the ACE Program! We'll provide you with guidelines & handouts, equipment, and additional co-instructors-YOU provide your skills & expertise! Email Ashley at agudex@jcahpo.org if you are interested in becoming a workshop instructor at the ACE Program.
Social Networking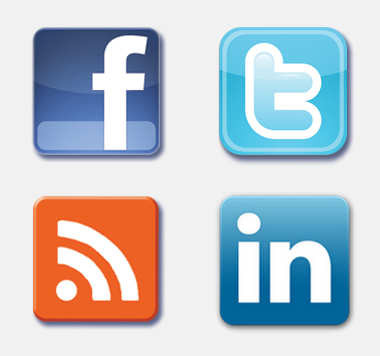 That's right - we post, we tweet, we send feeds, and we like things! If you're not already following us on Facebook, Twitter, RSS, and LinkedIn, you should be! That's where you can find the most up-to-date information on continuing education opportunities, certification updates, special online-only offers, news from the field, test your ophthalmic knowledge with "Tuesday Trivia," and interact with other ophthalmic personnel from all over the world. Join JCAHPO and your fellow ophthalmic medical technicians and get connected!
Tech Life
by Laurie Brown, COMT, COE, OSA, OCS, CPSS Administrator
Meet the staff at Drs. Fine, Hoffman, Packer, & Sims, LLC
Eugene, Oregon
Drs. Fine, Hoffman, Packer & Sims' mission: "We are committed to providing the most technologically advanced, cost-effective patient care, with the highest quality of professionalism." All staff members work toward higher levels of certification. We invest in education. We structure our practice to comply fully with all preferred practice patterns and regulations, and we maintain the highest ethical practice standards. If we discover fault within ourselves, we seek to rid ourselves of it; if we see good in others, we seek to imitate it.
As we live our mission daily, we recognize the incredible value of our certified clinical personnel. Our entire team is empowered to serve our patients and physicians to this high degree in everything we do. Being JCAHPO certified is a demonstrable commitment to a professional career. We strive to maintain our culture of continual improvement by advancing our skill and knowledge levels.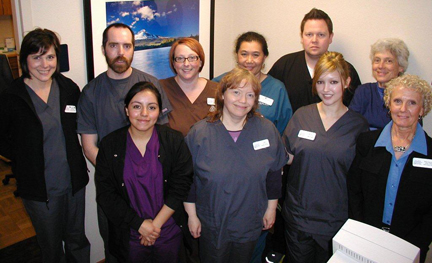 L to R back row: Amber Ambrozaitis, COT, OCS; Jon Cassidy, COMT, OCS; Brandy Hunt, COA, OCS; Suwanna Smith, COMT, OCS; Donnie Hammers, OA; Peggy Coffman, COT, OCS; L to R front row: Wendy Fandino, OA; Sue Stuhr, COT, OCS; Rachel Solberg, COA; Tina Callina, COMT, CCRC; Not pictured: Tony Reynolds, COT, OCS; Laurie Brown, COMT, OSA, OCS, COE.
Our practice concerns itself with applying new technology for the benefit of our patients. Within this framework, we have participated in over forty FDA-monitored clinical investigations. These studies demand scientific integrity and meticulous documentation. We rely heavily on our technical staff to carry out the clinical tests and report the test results. Therefore, we have a responsibility to ensure our ophthalmic technicians and technologists not only work efficiently and accurately, but also that they continue to learn and grow in the field. We thoroughly enjoy working with our outstanding staff members, and they enjoy participating in the evaluation of new technology. Their work proves patient care and research are both team efforts.
"Take the time to teach what you know and to learn what you don't. Everyone wants to grow, to achieve and to be recognized for her or his contribution. Allow your employees and co-workers the opportunity for continual improvement, and you allow your practice the opportunity for continued success."
The staff at Drs. Fine, Hoffman, Packer & Sims definitely live their mission. Everyone on their staff is certified or in the process of becoming certified. Many of their staff either lecture or instruct workshops at both regional CE Programs and the ACE Program. Thank you for all you do!
Earning CE Credits from home has never
been easier or more affordable!
ACTIONED
Did you know that you can earn all your CE credits in your certification cycle online? Did you know that when you complete online courses at ACTIONED, your credits are automatically applied to your JCAHPO transcript, no paperwork required? Did you know that if you are certified, you only need to spend $10 per CE credit? Indeed, earning your CE credits has never been more affordable, and we've been busy adding more courses to ACTIONED to make it even easier to choose courses that best fit your needs! Since the start of 2012, we've added more than 40 new courses to the on-demand catalog at ACTIONED.org. Whether it's our new interactive courses on Sjogren's Syndrome and EHR Training, video presentations on Retinal Cell Rescue Strategies and Laser Refractive Surgery, or something from our existing catalog, we've got the courses you need. And, thanks to an Unrestricted Educational Grant from Essilor of America, we've also been able to go live with interactive courses specific to practice management, optics, and dispensing! So head on over to ACTIONED.org and get in on the ACTION!
The ACTIONED training platform is the result of a broad-based collaborative effort of key ophthalmic organizations: Joint Commission on Allied Health Personnel in Ophthalmology (JCAHPO®); American Society of Ophthalmic Administrators (ASOA®); American Society of Ophthalmic Registered Nurses (ASORN®) Association of Technical Personnel in Ophthalmology (ATPO®); Canadian Society of Ophthalmic Medical Personnel (CSOMP®); Ophthalmic Photographers' Society (OPS®). Practice staff can also receive applicable credits for: JCAHPO, COE, ASORN, OPS, and AOC.
Webinar Series
Q: What could be better than sitting at home in your favorite comfy chair while earning CE Credits on ACTIONED.org?

A: A live webinar where you can ask the instructor questions!
JCAHPO offers webinars every month hosted by experts in the ophthalmology field. View the 2012 schedule here. If you miss the live event, you can still view the recorded webinar up to one week later.

Watch, learn, and earn...Simple.
Upcoming Regionals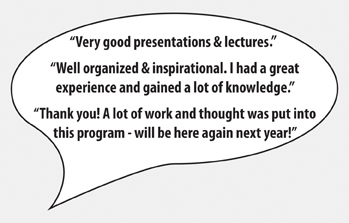 Have you heard what your fellow OMT are saying about JCAHPO's regional CE Programs? It's no wonder that regional CE Programs held during the first two quarters of this year have been selling out! It is our pleasure to bring these programs to your hometowns and to meet you. If you can't make it to Chicago in November, these regional programs are a great way to still attend live lectures and earn CE Credits. Come out and spend the day with us this summer! During July, August, and September we'll be in Norfolk, VA; Denver, CO; Las Vegas, NV (Retina program featuring keynote speaker Tom Sullivan!) and Greensboro, NC.
For a listing of all 2012 regional programs, view the calendar.
New CEC Fees
Effective 1/1/13 JCAHPO's CEC provider application fees will be revised. Please check the website for an upcoming, more formal announcement and the new fees. All current CEC providers will also be mailed the new information.
JCAHPO/ASCRS Symposium
More than 800 ophthalmic professionals attended the JCAHPO Nurses and Technicians three-day program at the ASCRS/ASOA symposium in Chicago, IL, April 20-23. Another 65 attendees took part in the ATPO certification exam review courses. Be sure to "save the date" for next year when JCAHPO & ASCRS return to San Francisco, CA, April 19-23. View photos from this year's symposium here.
Sight for Soldiers: Giving the gift of good vision
© 2012 Allina Health
When Captain Joe H. of the Minnesota National Guard returns to Iraq later this year, he'll spend at least part of his tour in the combat zone. Thankfully, he'll have one less thing to worry about when attacks come in the middle of the night: no longer will he be fumbling for his glasses as he makes his way to the safety of the bunker.
Joe is one of more than 500 soldiers who have benefited from the Sight for Soldiers program made possible by a number of ophthalmologists, including Neal Sher, MD, Eye Care Associates and Phillips Eye Institute, the region's only specialty eye hospital. The program provides free laser vision correction surgery to troops in the National Guard and Reserves. Unlike those serving in the regular armed forces, these soldiers typically can't access such surgery through military channels and many can't afford it on their own.
In 2004, Dr. Sher began offering the surgery free to a few soldiers. Phillips Eye Institute agreed to waive its fees, so the soldiers have no out-of-pocket costs. Word spread among soldiers and their families, and eventually up the chain of command. In 2008, Sher received a personal letter of commendation from Gen. David Petraeus, then commanding general, Multi-National Force - Iraq.
Having good vision without eyeglasses or contact lenses isn't just a convenience in an environment like Afghanistan or Iraq. "Glasses can be broken or lost and the dry climate, high altitude, and dust are not conducive to contacts," said Dr. Sher. For soldiers in harm's way, good vision can be a lifesaver. As Joe's eyes healed from surgery, he gauged his progress by looking out his window each morning. "Every day, the leaves and branches on the tree outside became more crisp and clear. "People who haven't lived with poor vision may not realize what a life-changing procedure this is," he added. "This gift has inspired me personally and I only hope that I can pay it forward."
Is YOUR clinic providing any special services to the public? If so, let us know what you're doing and we just might include it in an upcoming issue of Eye Lights!
New Worldwide Test Centers
to Open August 1, 2012
JCAHPO has entered into a new agreement for delivery of all its certification examinations with Pearson VUE effective August 1, 2012. "We are excited about this new partnership with Pearson VUE as it will enhance and expand our testing capabilities with the COMT Performance Simulation and delivery of international examinations," stated Tyree Carr, MD, JCAHPO President. JCAHPO's new COMT Performance Test will go live in the Pearson VUE test centers in early 2013, whereas, we are currently delivering it during JCAHPO CE programs and at JCAHPO headquarters in St. Paul, MN. Additionally, with the strong interest from the international ophthalmic community in JCAHPO's examinations and allied health training, we will be expanding our capability to distribute our certification examinations globally.
To ensure a smooth transition from our current testing centers to the new Pearson VUE test centers for our examination candidates, the Certification Department Staff are working with current applicants in carefully scheduling their examinations in the correct center. If you are eligible to take your multiple choice examinations or the COT Skill Evaluation prior to July 31, you will schedule your examination in our current Prometric test centers as your confirmation letter states. Scheduling in the new Pearson VUE test centers begins after August 1. If you have an active eligibility period to take a certification examination during the transition time period and wish to take the examination at a Pearson VUE testing facility after August 1, please contact the Certification Department. They will note your information and contact you as soon as you are able to schedule with Pearson VUE.
During the transition, please note these important details as they may affect you:
1. Scheduling properly to ensure that your examination is taken at the correct center to properly link to your eligibility.
2. The COT Skill Evaluation will be unavailable for a limited time after August 1st due to updating of the software needed for the delivery of the examination at our new test sites.
3. The COMT Performance Test will be available after January 1, 2013 in the test centers.
4. New candidate feedback reports will be designed for more effective examination feedback.
Pearson VUE delivers millions of high-stakes tests annually worldwide for clients in the licensure, certification, academic admissions, regulatory, and government testing service markets. It has one of the world's largest test center networks, with over 5,000 test centers in 165 countries, 230 of which are fully-owned and-operated Pearson Professional Centers. Pearson Professional Centers utilize a patent-winning design, which was created specifically for high-stakes testing and offers a carefully controlled, consistent testing environment. If you have any questions regarding the transition to Pearson VUE, please contact the Certification Department at (800) 284-3937.
We are excited for your feedback on your new and expanded testing center network!
June Eye Health Awareness
Fireworks Safety Months, June 1 - July 31

Who doesn't love a spectacular fireworks show on Independence Day?! They can be a fun and exciting way to celebrate our nation's freedom, but they can also be harmful or even deadly when not used properly. Did you know that only five states do NOT allow consumers to purchase fireworks for personal use? It's no wonder the United States Consumer Product Safety Commission (CPSC) states there are close to 10,000 people treated every year for fireworks-related injuries! Of these, an estimated 16 percent affect the eyes, with 400 Americans losing vision in one or both eyes during the 4th of July holiday due to fireworks injuries.
Be sure to remind your patients and your community about the potential hazards of fireworks and consider posting important reminders in your office, your website, and even your local newspapers.

The Association of Technical Personnel in Ophthalmology (ATPO) invites you to become a member of the organization that represents all ophthalmic medical personnel including ophthalmic assistants, technicians, nurses, photographers, surgical and keratorefractive technologists, orthoptists, and contact lens specialists. Visit www.atpo.org for membership pricing and more details.
What's in it for you? A lot...An ATPO membership includes:
Up to 4 FREE Continuing Education credits each year

Viewpoints®; Magazine

Reduced registration rates for educational opportunities

Professional support and growth opportunities

Free 2011 Salary Survey

Discounted prices on Certification Review Flash Cards
Many ATPO members and JCAHPO certificants don't understand the difference between ATPO and JCAHPO, so ATPO has developed a PowerPoint presentation explaining the value of JCAHPO certification and the benefits of ATPO membership. This presentation is perfect to use in your workplace setting! Click here to access the Benefits of ATPO and Value of JCAHPO Certification Presentation.
JCAHPO Education & Research Foundation- Grants, Scholarships, Awards, and more!
Don't miss upcoming deadlines on several 2012 grants and scholarships apply now!
Did You Know?
The COT multiple-choice exam has recently been updated and is scheduled for release in the fall of 2012. The content areas may be viewed at www.jcahpo.org/certification. Because of the updates to the exam, the COT Study Guide will also be updated and availability of the guide will coincide with the release of the new exam.
Content areas were updated in accordance with the most recent job task analysis survey. Tasks on the COT Skill Evaluation will remain unchanged and include Keratometry, Visual Fields, Ocular Motility, Lensometry, Retinoscopy, Refinement, and Tonometry.
The Criteria for Certification & Recertification handbook is also undergoing revisions and will be available in January, 2013. As always, for the most up-to-date information, please visit www.jcahpo.org.
Staff Corner
The staff at JCAHPO and ATPO have worked tirelessly these past 40+ years to bring the highest level of service and support to our members. We would like to give you the opportunity to get to know the people who handle certification, continuing education, administrative support, and organizational management a little bit better through our ongoing 'Staff Corner' newsletter segment. In this issue we introduce you to JCAHPO's CEO and E-Learning Manager.
Lynn Anderson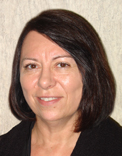 Lynn Anderson, PhD, CEO, is JCAHPO's chief team leader in promoting the ophthalmic profession, certification and recertification, accreditation of programs and continuing education. She is very involved in international standardization of ophthalmic assisting practices. She is a co-author of the New International Core Curriculum for Ophthalmic Assistants (Allied Health Professionals), co-author of several chapters in The Ophthalmic Assistant by Stein, Stein and Freeman, and author/co-author of numerous journal articles regarding the importance of certification, productivity, and the value of ophthalmic assistants. Dr. Anderson was instrumental in expanding JCAHPO's certifications and continuing education opportunities with regionals and distance education; assisting ATPO through the steps for its alliance with JCAHPO and is a strong supporter of ATPO and its benefits to members, and supporting strong alliances with other ophthalmic organizations. She has an "open door" policy in the office and carries that same open communication into the public, by occasionally staffing regional CE programs and exhibit booths so she can talk directly with certificants and attendees.
Favorite quote: "The only thing constant in life is change." Francois de la Rochefoucauld, French, 1613-1680
Mike Miller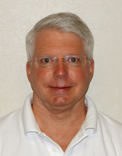 Mike is the E-Learning Manager at JCAHPO and began full-time employment in January of this year, but his relationship with us started many years ago. Mike has been instrumental in developing the computer simulations for training and examinations and is the team lead of ACTIONED and the webinars. He will also staff some regional CE programs and exhibit booths and looks forward to meeting many of you.
Mike's favorite quote? Yesterday is history. Tomorrow, a mystery. Today is a gift-That is why we call it the present!