From the President
2012 is already proving to be a record-setting year, both outside of the office and inside. Outside, there is NO snow at the home office in St. Paul, MN, and new high temperatures are being set and recorded on a weekly basis. Inside the office, usage of our online CE Credit Web site, ACTIONED.org, is setting all-time highs, as is the number of you partaking in our Webinar Series! Congratulations on maintaining your certification and recognizing that it doesn't have to be a costly affair or a weekend away from home. Maintenance of your certification is important for your patients and you!
We're also setting records with the number of "likes" to our Facebook page, Website visits, and meeting attendance. In these trying economic times, it is clear to all of us that certification is in high-demand and many times means the difference between having a job and not having a job.
Due to such high-demand, we've been working hard to bring you new, comprehensive material in your efforts to recertify: in print, online, and at the regional and annual CE programs. New Refinements modules are on the way, new courses are being added to ACTIONED on a regular basis, updates to the popular Pocket Guide and a Spanish version are coming soon, and we're bringing more regional meetings to more cities than ever before.
Finally, be sure to "save the dates" of November 9-12 and join us in Chicago, IL, as we celebrate the 40th anniversary of the Annual Continuing Education (ACE) Program!
Earning CE Credits from home has never
been easier or more affordable!
ACTIONED
Have you had an opportunity to take any online CE Credit courses at ACTIONED.org? If so, we hope you found the site easy to use and a simple way to obtain low-cost CE Credits. If not, what are you waiting for? JCAHPO, along with our partners (ATPO, ASORN, CSOMP, OPS, and ASOA) currently offer more than 150 online courses in 20 different subject categories. You can earn CE Credit from JCAHPO, ASOA, OPS, and ASORN in one location! This quarter, 21 new courses are being added. Check out all the action going on and be sure to keep an eye on the site as we will be adding additional courses all year long, getting a fresh, new look, and making the site even more user-friendly this year.
Webinar Series
Q: What could be better than sitting at home in your favorite comfy chair while earning CE Credits on ACTIONED.org?

A: A live webinar where you can ask the instructor questions!
JCAHPO offers low-cost webinars every month hosted by experts in the ophthalmology field. View the 2012 schedule here. If you miss the live event, you can still view the recorded webinar up to one week later.

Watch, learn, and earn...Simple.

Regional CE Programs
Join JCAHPO staff & network with your peers at these upcoming regional CE programs during the months of March, April, May, & June...Are we coming to YOUR city? New Orleans, LA; Costa Mesa, CA (featuring guest speaker Tom Sullivan); Rochester, MN; Chicago, IL; Vancouver, BC; Dallas, TX; Cleveland, OH; Kiawah Island, SC, and Orlando, FL. For a listing of all 2012 regional programs, click here.
JCAHPO was pleased to welcome eight members of the Duke Ophthalmic Technician Training Program, (class of 2012), as they participated in their first ophthalmic continuing education program in Asheville, NC. The September 16 and 17, 2011, regional program temporarily took the place of classroom learning. The students encountered lectures by a variety of eye care professionals and networked during lunch and breaks. This was a fantastic opportunity for them to get an idea of the significance of continuing education programs. The lectures reinforced concepts taught in the classroom as well as giving students new information.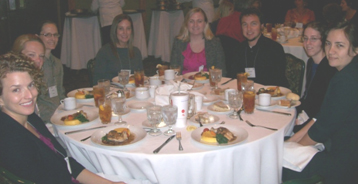 Duke Ophthalmic Technician Training Program, Class of 2012: Polly Judd, Jess McQuaid, Mimi Rieth, Ashley Terry, Kate Cotter, Andy Jones, Kara Schultz, and Natalia Cook. Photo courtesy of Jo Legacki, COMT
This lively group of tech students delighted in the opportunity, which was provided to them at a reduced rate. They will graduate in June and will have already taken their written COT exam by then. From all of us at JCAHPO: Good luck on your exams and best wishes on your graduation!
ASCRS Meeting, McCormick Place West, Chicago, IL
Registration for the ASCRS/JCAHPO Technician and Nurses program, as well as ATPO's Certification Exam Review Day, is now open!
Click on the links NOW to register before registration fees increase on March 3!
Technicians & Nurses Program - April 21-23, Registration at www.ascrs.org
ATPO Review Day - April 20, Registration at www.jcahpo.org by April 10, 2012!
2012 Save the Date and Call for Instructors!
Save the Date: Chicago, Illinois, November 9-12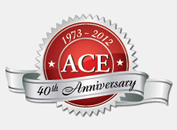 It's back to Chicago, November 9-12, for JCAHPO's 40th Anniversary of the Annual Continuing Education (ACE) Program! You won't want to miss the Harold A. Stein Lecture on Sunday morning, November 11, when Joe Lovett takes center stage.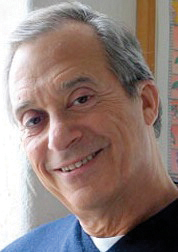 Joe is the director of Going Blind, a new documentary film of blindness, vision loss, and the vision rehabilitation system. Going Blind is also Joe's personal story of his struggle with glaucoma and his sometimes-difficult journey through the "secret world," as he refers to it, "of vision rehabilitation. Sighted people know nothing about it ...and they should!"
Joe worked at CBS for four years and spent ten years as a producer for ABC News 20/20. At 20/20, Joe worked with Hugh Downs, Barbara Walters, Geraldo Rivera, and other correspondents on topics that ranged from pop culture to health to politics.
Join us on November 11 to hear Joe's emotional & inspirational story and what he is doing to help others and increase public awareness.
Call for Instructors!
We'll provide you with guidelines & handouts, equipment, and additional instructors-YOU provide your skills & expertise! It's a fun and great way to earn CE Credit and take the next step in enhancing and growing your career. Email Ashley at agudex@jcahpo.org if you are interested in becoming a workshop instructor at the ACE program.
Tech Life
Ophthalmic Medical Assisting-More Than Just Assisting
by Lori J. Wood, COMT
Lori Wood, COMT and director of the Ophthalmic Technology Program at Eastern Virginia Medical School, thought she knew her ultimate career goal: to become a lawyer. She earned a paralegal certificate at night while working days for an attorney. "I really loved law," she recalls. "I loved the complexity of it and I loved working with people."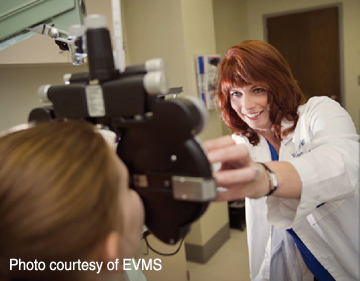 But as she began to explore her options for earning a bachelor's degree, she became less certain. "It took me six months of research and looking before I decided I wanted to be an optometrist," Lori says. "I would be helping people with their vision and making a difference in someone's life."
After moving to Norfolk, she searched for pre-med courses and came across the joint EVMS/Old Dominion University program. Graduates of this 22-month program gained an extensive knowledge of the ocular system, were proficient in the operation of visual instrumentation, and developed effective communication skills in working with patients. Lori completed the program and pursued a BS in health sciences, with an emphasis in ophthalmic technology. "I figured I could still apply to optometry school with that degree or I could apply to law school if I changed my mind about the health-science field," she says.
But she didn't change her mind. She loved the program from the first day and graduated in 1998 at the age of 34. Interested in becoming an educator, Mrs. Wood asked her teacher how to become an instructor in an Ophthalmic Technology Program. "Since there were only seven programs in the country at the time, she said someone had to either leave or die for there to be an opening, and she didn't plan on doing either real soon!"
So Lori went into private practice for three years. Then one day her instructor called and said "Do you have your resume ready? I'm leaving to pursue other things." That was in early 2002 and Lori has been the director of the Ophthalmic Technology Program ever since.
Lori has also been instrumental in organizing regional CE meetings with JCAHPO in the Norfolk area. This July 14, JCAHPO will again partner with Lori and EVMS, as well as Virginia Eye Consultants, on a regional program which will be held in Norfolk.
Workplace Eye Wellness Month
March is typically known for its outrageously changing weather and of course, March Madness! But did you know that March is also designated as "Workplace Eye Health and Safety Month?" Whether you work in front of a computer all day, work in the welding or construction industry, or are involved in sports, eye problems can be acquired at most any workplace. Are you seeing an increase in "computer vision syndrome" or other eye injuries? At the Annual CE Program in Orlando last October, we introduced some new lectures that relate to this topic and there are also courses on ACTIONED.org that cover many different syndromes and injuries, both work and sports-related. Be sure to check them out to be fully prepared on recognizing the symptoms and educating your patients.
Did You Know? The top 5 categories contributing to eye injuries:
- Welding Equipment
- Power Tools
- Adhesives
- Non-Power Tools
- Bleaches (non-cosmetic)

According to the U.S. Consumer Product Safety Commission, there are more than 15,000 welding equipment-related eye injuries a year. Power tools come in second, contributing to nearly 10,000 eye injuries a year.
For eye health information every day, check out The EyeSmart®; public awareness campaign, sponsored by the American Academy of Ophthalmology at http://www.geteyesmart.org/eyesmart/
Social Networking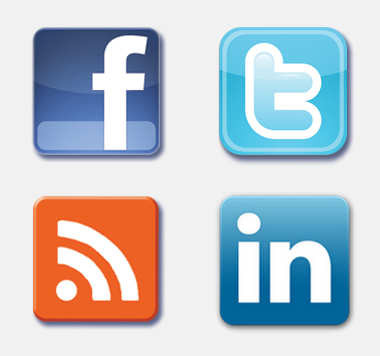 Like you, we love the opportunity to network within the ophthalmic community, learn new things, chat with our friends, and share experiences with others in this exciting field of ophthalmology.
That's right - we post, we tweet, we send feeds, and we like things! If you're not already following us on Facebook, Twitter, RSS, and LinkedIn, you should be! That's where you can find the most up-to-date information on continuing education opportunities, certification updates, special online-only offers, news from the field, test your ophthalmic knowledge with "Tuesday Trivia," and interact with other ophthalmic personnel from all over the world. Join us and your fellow ophthalmic medical technicians and let's get connected!
JCAHPO Education & Research Foundation-Grants, Scholarships, Awards, and More!
Did you know that in 2011 JCAHPO awarded more than $26,000 in grants and scholarships? Visit the JCAHPO Education & Research Foundation Website at www.jcahpo.org/foundation/scholarships/ for more details. Everyone is eligible, but application deadlines are fast approaching, so don't delay-apply today!
Virginia A. Boyce Humanitarian Award
The Virginia A. Boyce Humanitarian Award is presented annually to an ophthalmic medical technician, preferably JCAHPO-certified, who has made outstanding voluntary public service contributions in the assistance of eye care and prevention of vision loss. Know someone who is deserving of this honor? For more information click here.
Legacy Society
The JCAHPO Education and Research Foundation established the Legacy Society in 2006 to honor individuals who have included JCAHPO in their planned giving, a part of estate planning that allows you to contribute to organizations you want to support long-term, either in your lifetime or after your death. Bequest, cash, life insurance, IRAs, and securities are just some of the ways you can include JCAHPO in your estate plans. Talk to your legal counsel or financial advisor about special opportunities that allow you to give. The total number of Legacy Society members is currently 13.
Experience peace of mind, by taking control of your future in a way that benefits you, your loved ones, and the world around you. A planned gift to the JCAHPO Education and Research Foundation will ensure a continuation of your commitment to the values of our profession for years to come and will enable the Foundation to continue to provide valuable support to JCAHPO and ophthalmic medical personnel.
Operation Eyesight celebrates 10 years
at Minnesota Eye Consultants
Twice a year, ophthalmologists and ophthalmic medical personnel at Minnesota Eye Consultants, volunteer their time and services to provide free eye surgeries to under- or uninsured and financially-burdened patients in Minnesota and Wisconsin.
"It has truly been rewarding to serve these folks by engaging our entire team - surgeons, physicians, clinic professionals, and even their families - in this volunteer effort," said Dr. Elizabeth A. Davis, board-certified ophthalmologist, partner, and medical director of Minnesota Eye Consultants' Surgery Center, who helped launch this volunteer program. "Our goal now is to inspire other practices, medical providers, and volunteers to help serve the growing needs for these patients."
Thank you Minnesota Eye Consultants! Read the full story at www.kare11.com
Elevate and validate your ophthalmic knowledge through JCAHPO Certification!
Four out of five ophthalmologists agree that certified ophthalmic medical personnel (OMP) render their practice more productive. Studies have shown that certified OMP contribute more than non-certified personnel to the efficiency and quality of care in a practice.
Just as in other professions, the value of certification and the importance of employing educated, trained, and qualified professionals should be the best practice in ophthalmology!
Take this opportunity to become initially certified or move to the next level of certification! Certification applications are available on-line at www.jcahpo.org under Certification/Recertification, "Get Certified". All certification candidates must meet JCAHPO's eligibility requirements and follow the appropriate application process.
Staff Corner
The staff at JCAHPO and ATPO have worked tirelessly these past 40+ years to bring the highest level of service and support to our members. We would like to give you the opportunity to get to know the people who handle certification, continuing education, administrative support, and organizational management a little bit better through our ongoing 'Staff Corner' newsletter segment. In this issue we introduce you to JCAHPO's Meetings Coordinator and one of our Administrative Assistants.
Ashley Gudex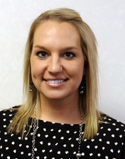 Ashley has been JCAHPO's meetings coordinator since August 2010. She loves meeting all of the faculty and attendees at regional and annual programs, and organizing and planning those programs all across the US. She also loves traveling, whether it is for work or for pleasure. She has been involved with JCAHPO since she was a teenager, volunteering as a patient for the COMT Performance Test, assisting with special projects at the office, and staffing CE programs.
Ashley is a licensed, registered dental assistant and formerly worked in an oral surgery center, but when the opportunity to work fulltime in the education department came along, she couldn't resist becoming a full-fledged member of the JCAHPO team.
Three words that describe Ashley? Happy, caring, and outgoing.
Motto to live by? "Go confidently in the direction of your dreams. Live the life you have always imagined."
Angie Tremblay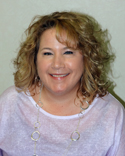 Angie has been an administrative assistant at JCAHPO for three years. She is the bubbly, outgoing person you talk to when calling JCAHPO or ATPO's main phone number! Angie's position in the Administrative Services department gives her a variety of job duties, which, as she says "always makes for a fun and interesting day!" Indeed it must! Not a day goes by when we don't see Angie smiling or hear her laughter coming from the mailroom. Her infectious, upbeat personality makes her a delight to work with. It's no wonder that her co-workers describe Angie as fun-loving, positive, and joyful.
Motto to live by? "Always remember to treat each day as a gift from above, say I love you to those you could not live without, and show appreciation with sincerity."
Pocket Guide
One of our most in-demand products, the JCAHPO/ATPO Pocket Guide, is currently being updated and will be ready for reprint soon. The Pocket Guide is a clinical skills and reference guide for the ophthalmic technicians, featuring 126 detailed procedures, illustrations, and charts & 12 color-coded reference sections. We're also working on a Spanish version of the Pocket Guide, which will be released this year. This is a fantastic tool for anyone in the ophthalmology clinic. To order your copy, click here.