President's Message

Eydie Miller-Ellis, MD
JCAHPO President

If winter is a time of quiet planning, then spring is a riot of action. Buds burst from trees, daffodils and tulips erupt from the ground, and animals start nosing their way out into the warming world.

We are already seeing our winter efforts blossom here in the JCAHPO office. I'm very happy to report that JCAHPO's COA, COT, COMT, and OSA certification examinations have had their accreditation renewed by the National Commission for Certifying Agencies (NCCA).

As the weather gets warmer and snow finally starts to melt, we are laying the ground work to bring you a fantastic year of continuing education opportunities.
EyeCare CE, the largest library of Online CE courses, is continuing to grow. New courses are now being offered, including COA and COT certification exam preparation courses.
The 15th Annual Technicians and Nurses program, held by JCAHPO and ASCRS, is coming to New Orleans this spring. The three day program starts May 7, wraps up May 9, and includes basic, intermediate, and advanced sessions. This year, in addition to the clinical and surgical track, we've added a third track– ASC.

The 44th Annual Continuing Education program (ACE) heads back to Chicago this October, with a couple of very exciting changes. We've streamlined into three days to get you back to work on Monday, and we are moving to a fantastic new venue,
the Hyatt Regency Chicago. We look forward to seeing you there!

JCAHPO is committed to bringing Allied Ophthalmic Personnel the very best in service and continuing education, and we are looking forward to growing alongside all of you this spring, this year, and for years to come.

Best regards,
Eydie Miller-Ellis, MD


Trouble with Your JCAHPO Password?

1. Passwords need to be a minimum of six characters. Keep your password with your continuing education information or files.

2. If you have trouble accessing your account, and have not had success with the "Forgot Logon" or "Forgot Password" options, check your "junk" or "spam" email folders first for an email with instructions. If you still have problems, call JCAHPO at 800-284-3937 and select option #1 for help instead of creating a new account. Our Administration Team can assist you much more quickly if you only have one active account.

3. If you think you may have an account from a previous employer, please call us.

New Commissioners

JCAHPO welcomes two newly appointed Commissioners.
Terri L. Young, MD, MBA, will be representing the Association of University Professors of Ophthalmology (AUPO) for a three year term. Her impressive resume includes her current position as the Chair of the Department of Ophthalmology and Visual Sciences at the University of Wisconsin-Madison.
Steve Lichtenstein, MD, has been appointed as the Commissioner for the American Association of Pediatric Ophthalmology and Strabismus (AAPOS). Dr. Lichtenstein has been in practice for more than 20 years, specializing in Strabismus and Pediatrics, and has recently served as Vice President on the Board of Directors for JCAHPO's Education and Research Foundation.
Education and E-Learning
Annual Continuing Education (ACE) Program
Big changes are coming to the 44th Annual Continuing Education program as we blow back into the windy city this fall. We have a new venue, new dates, and will be streamlining your educational experience into a three-day program, extendin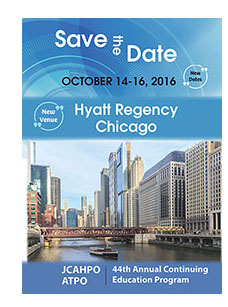 g from Friday, October 14 to Sunday, October 16.

Most exciting of all the changes this year is our new venue. This year's ACE program is moving to the centrally located Hyatt Regency Chicago, a riverside hotel close to restaurants and shopping. The Hyatt Regency Chicago is located at 151 East Wacker Drive, Chicago, IL 60601. Hotel reservations must be made through the AAO Housing Bureau. Housing opens on June 22 to Academy and AAOE members and on July 13 to allied ophthalmic personnel.

You won't want to miss the Stein Lecture this year! Join us on Sunday, October 16 to hear the story of Dr. Ian Crozier and his ophthalmologist, Steven Yeh, MD. They will be sharing their perspectives into Dr. Crozier's evacuation, treatment, recovery, and subsequent vision-threatening condition as a result of the Ebola virus, and how each of them dealt with the uncertainty and long-term implications of this virus.
Information is being continually updated on the ACE website, so be sure to bookmark the site and check back often.
JCAHPO/ASCRS Technician and Nurses Program
The 15th Annual JCAHPO/ASCRS three-day Technicians and Nurses Program during the 2016 ASCRS/ASOA Symposium and Congress will be held at Ernest N. Morial Convention Center, May 7-9, in New Orleans. This program includes basic, intermediate, and advanced sessions.

This year features a three-track structure: a clinical, surgical, and ASC track. Classes are held in three concurrent session rooms, with crossover access to attend ASCRS symposium physician sessions, or a dual registration with ASOA's program.

New this year is the fast paced Tech Talks, a program that encourages extensive presenter and audience interactions through case-based presentations and Q&A discussions addressing important topics for ophthalmic practices and ASC facilities.

Regional Meetings
JCAHPO offers monthly one- and two-day continuing education programs held around the US and Canada which are a convenient and cost effective way to earn continuing education credits. Leading industry professionals present a variety of topics allied ophthalmic personnel can immediately apply to their work.

We hope you can make it to one of the following upcoming events:
Webinars
We've made a few changes to our webinars to make getting your CE credits easier and faster! We now provide three all-new webinars each month. The first Tuesday of the month features a live webinar, while the webinars on the second and third Tuesdays are pre-recorded.
The way you access a webinar has also changed, see the "Webinar Access Email" which will continue to be sent to registrants on the morning of the webinar for more information. With these new changes, you can now expect to see your CE credit appear in your transcript within 24 hours of successfully completing the webinar quiz and evaluation!
Take the stress out of earning CE credits. Conveniently learn and earn from home at an affordable price. Register today!
Dallas

Texas

Saturday, April 30

Glade Springs

West Virginia

Saturday, April 30

New Orleans

Louisiana

May 7-9

Vancouver

British Columbia

Friday, May 13

Kiawah

South Carolina

Saturday, June 4

Orlando

Florida

Friday and Saturday
June 10&11

Canadian Society of Ophthalmic Medical Personnel

Ontario

June 17-20

San Francisco

California

Saturday, August 13
Certification News
The National Commission for Certifying Agencies (NCCA), created by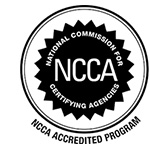 the Institute for Credentialing Excellence in 1987, has renewed the accreditation for JCAHPO's COA, COT, COMT, and OSA certification examinations. This accreditation providesanimpartial, third-party validation that these certifications meet recognized national and international credentialing industry standards for development, implementation, and maintenance of certification programs. JCAHPO is one of approximately 120 organizations in the US to earn NCCA accreditation.
Back to top
| | |
| --- | --- |
| Foundation News | |
In the 2014/2015 fiscal year, the JCAHPO Foundation awarded 133 scholarships to AOP totaling $30,980 and 22 certification and continuing education grants totaling $3,800. There remains a great need for these scholarships and grants.
When asked why he donates, Steven J. Lichtenstein, MD, FAAP, FACS, FAAO said, "I give to the JCAHPO Education and Research Foundation for a very selfish reason. I want a well-trained technical staff to work up my patients correctly and with the highest standards of training and excellence. They then can provide me high quality, accurate information which allows me to take care of my patients at the highest levels of our profession. My patients have good results, which make them very happy, and they spread my name as providing the best eye care in the area. I donate to the foundation to make it possible for highly qualified and motivated individuals to pursue training and a career in ophthalmology. It is the best money I could spend to make my practice state of the art. It is a very selfish reason!"
To Donate:
To help support the continuation of these scholarships and grants,
click here to make a donation.
To Apply:
Deadlines to apply for 2016 scholarships and awards are fast approaching!
| | |
| --- | --- |
| Certification Grants   | April 25 |
| Barbara Cassin Scholarship | April 25 |
| American Glaucoma Society Certification Grants | April 25 |
| Virginia Boyce Award Nominations | May 2 |
| ATPO Continuing Education Grants            | July 31 |
| Harold A. Stein Paper | July 31 |
| Continuing Education Grants | July 31 |
| Local Eye Site Certification Grants  | November 30 |
ATPO Corner
On Friday, May 6, the Association of Technical Personnel in Ophthalmology (ATPO) will bring an exciting session to the ASCRS/ASOA Symposium and Congress. "Train the Trainer" focuses on the practical skills and real life strategies needed to create and deliver effective, engaging training to new ophthalmic hires in an ophthalmic environment. This course helps practices start technician training programs and refine the techniques they are already using. Attendees will learn to train with impact by assessing their own training style, and evaluating the learner, the trainer, and the training course.
This session includes lectures and a moderated panel of four speakers with years of training experience. Topics will include identifying a good trainer, matching learning styles and training methods, utilizing effective training techniques, developing a systematic approach, and evaluating the success of your training methods. Practical examples and useful training resources will be provided. Time is allotted for questions at the end of the session.
ATPO also holds certification exam review sessions on May 6 for JCAHPO's COA, COT, and COMT written exams. These are a great resource for technicians preparing to take the next step in their careers. These sessions serve as an overview of content areas covered on the certification examination to help the attendee prepare for the exam. Content areas are discussed in a classroom format with the use of a slide presentation and end with a question and answer session.
Registration is open until April 26. Visit the JCAHPO Events Page for more information.
Back to top
Tech Life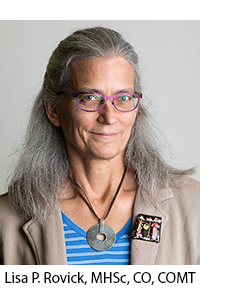 When people ask me how I ended up as an Assistant Professor and Director of a program in Health Science at Saint Catherine University, it's difficult to boil the story down into a three minute "elevator speech." The shortest answer is that it was a result of a series of situations where I happened to be in the right place at the right time, armed with a Bachelor's Degree in Psychology, and open to learning new things and exploring new possibilities. The combination of a love of doing puzzles, working with people to find solutions to complex problems, and the love of creating and building things from scratch made working in eye care the perfect place for me.

I started as an optician trainee in a retail optical shop, where the owners took a chance on my baccalaureate degree, telling me that the degree meant I was "educable." I soon discovered contact lens fitting and loved to take on the most complex fitting challenges. I then tried management and learned very quickly that it was not my strength. I applied for an ophthalmic technician job at the University of Minnesota, in an effort to move into a more academic medical setting. I learned that they only wanted to hire staff who had completed formal training and was directed to the School for Ophthalmic Technicians (now called the Regions Hospital School of Ophthalmic Medical Technology) in St. Paul, MN. I learned about Orthoptics while I was finishing the program, then took and passed the COMT exam and started as the first student in the new Orthoptics program in the University of Minnesota Pediatric Eye Clinic. I took and passed the Orthoptic board exams in the following year and finally began my clinical adventures.

After many years of working in the clinic, a stint of working briefly as the certification manager for JCAHPO, teaching for JCAHPO and other continuing education programs and becoming involved in the leadership of ATPO and AACO, I had the pleasure of teaching a few Orthoptic students in the practice where I was working. This led to an opportunity to develop a new Orthoptic program at Saint Catherine University and to participate in teaching students enrolled in their Associate Degree Ophthalmic Technician program. All of this has led to a new opportunity as the director of a new program for students in Health Science. I still work with patients a little bit and love this chance to keep my skills fresh.

My newest academic adventure is also in the area of Interprofessional Education and practice, helping students to effectively develop and work within teams as they strive to provide the most effective and efficient care for their patients. My experience in the world of eye care has set me up to be able to work in this larger world of teaching students who are pursuing a variety of health care professions. It all goes back to my bachelor's degree and the chance I was given to show that I was educable as an optician. I am forever grateful to Russel and Takako Trenholm for taking a chance on me and opening up this universe that had been hidden.
Back to top