President's Message

Eydie Miller-Ellis, MD
JCAHPO President
2015-2017

Just as summer is heating up, so are the preparations for this fall's 44th Annual Continuing Education (ACE) program! We look forward to welcoming you October 14 – 16, at the trendy Hyatt Regency Chicago Hotel, 151 E Wacker Drive.

In our quest to continuously improve and streamline your education needs and experience, we've implemented several new and exciting developments this year, many based on YOUR feedback! We know your time out of the office is valuable, so we've restructured the ACE program into three days and packed more than 40 brand new, intermediate- to advanced-level courses into it.

We're very happy to announce that many of our workshop's prerequisite lectures are being offered online at www.EyeCareCE.org and not onsite. This allows you the freedom to take those course(s) from now until November 15 and the ability to take additional classes onsite to earn even more CE Credits!
This year's Stein address promises to be one of the most interesting, yet shocking, addresses to date! When Dr. Ian Crozier was released from Emory University Hospital in 2014 following a long, brutal fight with Ebola that nearly ended his life, his medical team thought he was cured. But less than two months later, he was back at the hospital with fading sight, intense pain, and soaring pressure in his left eye. The test results were chilling: the inside of Dr. Crozier's eye was swarming with Ebola!

Be sure to register early for the Harold A. Stein Keynote Lecture on Sunday, October 16, starting at 7:45 am, to hear the rest of Dr. Crozier's story. Presenting with Dr. Crozier will be Steven Yeh, MD, Louise M. Simpson Professor of Ophthalmology, Emory Eye Center, Atlanta, who led the team to save Ian's vision. You won't want to miss this!

The ACE program is the perfect way to learn what's new in the field of ophthalmology, network with fellow AOP, and sharpen your skills & knowledge. Continue reading to discover what else is new this year and then register today, as classes tend to fill up quickly!

In other news, I am excited to announce that a new campaign, "Ophthalmic Technician Recruitment: Retention and Training Initiative" established by JCAHPO and ATPO, has been created. This campaign will promote the profession to patients and recruit job candidates seeking a new and rewarding career. A Patient Recruitment toolkit is also being piloted by three state societies – Minnesota, Utah, and Florida – to offer to their membership.

Finally, I am pleased to report that JCAHPO will have an article published in the Canadian Journal of Ophthalmology. A preview of the article "A workforce in crisis: a case study to expand allied ophthalmic personnel", authored by William Astle, MD, FRCS(C), Craig Simms, COMT, ROUB, CDOS, and Lynn Anderson, PhD, will be published in August.


See you in October,
Eydie Miller-Ellis, MD
Education and E-Learning
Annual Continuing Education (ACE) Program (visit website)
Make plans NOW to join us in Chicago, October 14-16! You'll find that much has changed this year - Take a look!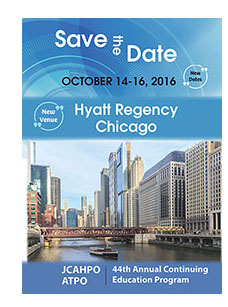 NEW venue! This year's ACE program has moved to the trendy Hyatt Regency Chicago, a riverside hotel within walking distance to restaurants and shopping.
NEW preregistration process! Preregistration will be available through Friday, October 7, allowing you to register right up to the meeting and avoid long registration lines onsite.
NEW onsite registration process! Self-serve kiosks will be available for you to register, add, or drop lectures without the need to wait in a registration line onsite.
NEW process for prerequisite lectures! Prerequisite lectures for the hands-on workshops are now available online at www.EyeCareCE.org and will not be presented onsite. You'll have all summer to take these lectures. By doing so, you can take more classes onsite to earn even more CE Credits!
NEW higher-level courses! More than 40 brand new Intermediate to Advanced-level courses, including the new ATPO Train-the-Trainer session!
NEW focus for new staff training! New to the field? Need some staff training? We help you identify those "ESSENTIAL FUNDAMENTALS" courses that will get you up-to-speed in the clinic quickly. Just look for the shaded courses on the Day-at-a-Glance pages inside!
While we are excited about all of the changes this year, be assured that your favorites are not changing! You'll still find engaging lectures, Scientific Session and Grand Rounds, Masters-level courses, hands-on workshops and wet labs, Who wants to be a Super Tech?, and captivating keynote addresses. Be sure to look through the entire catalog and then register early as classes fill up fast.
And, be sure to add these important dates to your calendar:
| | |
| --- | --- |
| NOW! | Registration is Open! - Save up to $140 when you preregister! |
| NOW! | Housing is open! – Secure your hotel room Hotel Reservations |
| Sept 1st | Registration fees increase! |
| October 7 | Deadline for pre-registration, changes, and cancellations |
| October 14-16 | Onsite Registration at Hyatt Regency Chicago Hotel |
The meeting website will keep you updated on important information you'll need to ensure a worry-free experience. You'll find housing links here, sold out courses, up-to-the-minute news, and answers to most of your questions!
Continuing Education
Can't make it to Chicago but need CE Credits? No problem! JCAHPO also holds monthly Regional CE Programs throughout the year at various locations across the country. This quarter, we will be hosting programs in San Francisco, CA; Cleveland, OH; Greensboro, NC; and New York City, NY. Regional meetings are a fun, convenient, and cost-effective way to earn continuing education credits at a location near you.
For even MORE convenience in earning CE Credits, visit www.EyeCareCE.org featuring the largest library of online CE courses for your entire eye care team.
JCAHPO hires Education Director
JCAHPO is pleased to welcome Craig Simms, COMT, ROUB, CDOS, as Education Director. Craig will have responsibility for overseeing JCAHPO's robust CE programs, policies, and accreditation standards. He has served on JCAHPO's Commission, various committees, and the JCAHPO Board of Directors in several capacities – currently he serves as Secretary of Education. Craig will reside and office in Kingston, ON, Canada.
FREE educational training Video!
Thank you to OMIC (Ophthalmic Mutual Insurance Company: A Risk Retention Group) for a generous grant provided by the Bruce E. Spivey, MS, Fund for Risk Management Studies, to underwrite the cost of producing an educational training video for AOP. The video, "Dilating Drops: Patient Safety and Liability Risks" was completed this spring and is available as a FREE RESOURCE on www. EyeCareCE.org to AOP on instilling eye drops in patients. The video training is designed to convey critical information aimed at reducing the risk of malpractice and liability to ophthalmic practices.

Faculty needed!
Are you interested in presenting or writing an article or know someone that is? We invite you and your colleagues to serve as faculty and instructors for a webinar and/or contributing a publication for a Refinements module-a 10-15 page monograph. Topics to be presented are the choice of the faculty/author. Delivery date is also flexible to work with your schedule. This is a great opportunity for residents or young ophthalmologists to get involved and gain experience. Contact the education staff at aanderson@jcahpo.org for more information.
Accreditation News
The Board of Directors of the Commission on Accreditation of Ophthalmic Medical Programs met in June. Invited guests included representatives from the Canadian Society of Ophthalmic Medical Personnel and the Canadian and American Orthoptic Associations/Societies. The representatives of all the organizations discussed forming an alliance and merging the accreditation Boards of Directors. A formal proposal was outlined for each organizations consideration, with decisions pending until the fall of 2016.
JCAHPO Store - www.EyeCareMarketplace.org
Bookmark our store for a quick, convenient shopping experience! Books, online CE courses, products, Foundation donations, exam study materials, webinar & regional program registrations, ATPO memberships dues, FREE resources, and more! It's all in one place at the EyeCareMarketplace!
Certification News
JCAHPO certifications extend well beyond an assistant, technician, or medical technologist. Did you know that JCAHPO offers Sub-Specialty and Specialty Certifications?
Sub-Specialty Certification
Ophthalmic Surgical Assisting (OSA) certification offers those who are certified at the core level of COA, COT or COMT, the opportunity to demonstrate their knowledge in the procedures and instrumentation necessary to assist in ophthalmic surgical suites.
Specialty Certifications
Are Certifications that do not require a core certification and they include:
Registered Ophthalmic Ultrasound Biometrist (ROUB) offers a certification for those who perform A-scan biometry of the eye.
Certified Diagnostic Ophthalmic Sonographer (CDOS) offers a certification for those who perform B-scan sonography of the eye.
Ophthalmic Scribe Certification (OSC) provides a certification for those who are responsible for documenting patient/doctor interaction in the patient record.
Corporate Certified Ophthalmic Assistant (CCOA) provides corporate employees who supply products and services the opportunity to prove their knowledge of ophthalmology.
Learn more at http://www.jcahpo.org/certification-recertification/
NEW Ophthalmic Scribe Certification Pricing

In an effort to eliminate some of the confusion about the current, three-tiered pricing structure for the OSC, we will be implementing the following two-tiered plan effective immediately:

· JCAHPO Certified personnel, ATPO Members, and
ASRS Member Sponsor - $40.00
· Non-Certified or Non-Member - $60.00

Please contact the JCAHPO certification department for additional information or questions at 800.284.3937, option #2.

Back to top
| | |
| --- | --- |
| Foundation News | |
Virginia S. Boyce Humanitarian Award

The (JCAHPO) Education and Research Foundation is pleased to announce the 2016 recipient of the Virginia S. Boyce Humanitarian Award: Susan Busch, Certified Ophthalmic Medical Technologist (COMT).

The Virginia S. Boyce Humanitarian Award was established in 2000 in honor of Virginia Boyce, CEO of Prevent Blindness from 1972 to 1982, who gave eighteen combined years of devoted volunteer service to JCAHPO and the Foundation.
Susan was selected as the 2016 Boyce Award recipient in recognition of her many years of volunteerism. She has worked hard to support eye care technicians locally and been a member of the Association of Technical Personnel in Ophthalmology (ATPO) since 1992. In the past few years, she served on the ATPO Board, its Marketing and Education Committee, and has been the ATPO National Chair of the Regional Mentor Program. Beginning in 1992, Susan has served as a lecturer and workshop instructor at JCAHPO's Annual Continuing Education meeting and also led the review sessions for technicians taking the COMT exam.
Susan has volunteered with the Girl Scouts for over 15 years and received the prestigious Appreciation Pin for exemplary service in delivering leadership experience. In 2013, Susan represented JCAHPO on a trip to Cameroon with Orbis International, where she was part of a team that provided training to local technicians.
"We could not be more pleased to present this year's Boyce Award to Susan," Melvin I. Freeman, MD, FACS, Chair of the Foundation, stated. "As the 15th winner of this award, she embodies the very spirit of service and generosity towards individuals with vision loss and the eye care community as a whole that we, the Foundation, represent and support."
Susan will receive her award on Friday, October 14, at the Annual Meeting in Chicago. 
Scholarship and Grant Information

The JCAHPO Education and Research Foundation is pleased to announce that the following companies and organizations have donated substantial gifts to sponsor certification grants and program tuition scholarships:
Local Eye Site – funding for certification grants for Fall 2016
Association of Technical Personnel in Ophthalmology – funding for continuing education grants to ATPO members
American Glaucoma Society – funding for certification grants to AOP who work in glaucoma clinics
American Orthoptic Council – funding for tuition scholarships and certification grants to orthoptic students
American Association of Certified Orthoptists - funding for tuition scholarships and certification grants to orthoptists
Friends of the late Barbara Cassin – funding for tuition scholarship and certification grants for COMT students
Visit http://www.jcahpo.org/foundation/scholarships-grants-and-awards-available/ for more information.
| | |
| --- | --- |
| Certification Grants   | April 25 |
| Barbara Cassin Scholarship | April 25 |
| American Glaucoma Society Certification Grants | April 25 |
| Virginia Boyce Award Nominations | May 2 |
| ATPO Continuing Education Grants            | July 31 |
| Harold A. Stein Paper | July 31 |
| Continuing Education Grants | July 31 |
| Local Eye Site Certification Grants  | November 30 |
ATPO Corner


Sergina Flaherty, COMT, OSC
ATPO President





The Association of Technical Personnel in Ophthalmology (ATPO) is pleased to announce and present their newly-elected 2016 - 2018 Board of Directors:
President-Elect, Amy Jost, BS, COMT, CCRC, OSC
Vice President, Jessica Barr, COMT, ROUB
 Past-President, Christine McDonald, COE, COA, ROUB, OSC
Treasurer, Jacqueline Pullos, COMT, OSC
Director-at-Large, Beth Koch, COT, ROUB
JCAHPO Representative, Matthew Parker, COMT, PhD, MMSc, OSC, CTC, LSSMBB
JCAHPO Ex-officio Representative to ATPO: Eydie Miller-Ellis, MD, JCAHPO President
Secretary, Lynn Anderson, PhD
Executive Director, Wade Delk
Meet the new Board during ATPO's 31st Annual Scientific Session and Grand Rounds, Saturday & Sunday, October 15 and 16, at the Hyatt Regency Chicago Hotel. (hyperlink) Additionally, on Friday, October 14, ATPO will host certification exam review courses, Career Branding, and Train the Trainer sessions. Learn more at: ATPO Course Descriptions.
Back to top
Tech Life
Matthew Parker COMT, PhD, MMSc, OSC, CTC, LSSMBB was adopted into ophthalmology in 1986 via the United States Army's Eye Specialist Course at Fort Sam Houston, Texas. Since military retirement, he has made a home with the Veteran Affairs medical communities. Matthew tells us, "Having the privilege to care for active duty, retired military, and their families is the greatest career reward ever."

He founded the Federal Employee Ophthalmic Association (formerly SMTPO), an organization which works to foster professional technical development through standardized
education and performance within government medical facilities through Lean Six Sigma process improvements and introduction to the PACT Model.  Matthew holds the highest six sigma certification as a Lean Six Sigma Master Black Belt  and is the founder of "PACT-Matters",  company designed to assist ophthalmology practices, of all sizes, become more successful with a lean six sigma cultural change.
 
Matthew was recently elected to the 2016-2017 Association of Technical Personnel (ATPO) Board of Directors as a JCAHPO Representative. He is a perennial contributor to the JCAHPO and ATPO Annual Meetings, JCAHPO Regional CE Programs, and the JCAHPO Webinar series with over 20 years of faculty instructions! 
 
In addition to volunteering his "spare" time with JCAHPO and ATPO, Matthew also works with local organizations to promote education for ophthalmic professionals. He is a selfless contributor, dedicated professional, and passionate educator, AND as of August 10, 2016, JCAHPO's newest Certified Ophthalmic Medical Technologist (COMT)!

Congratulations Matthew!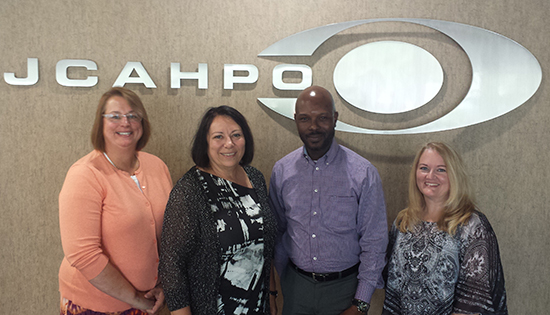 Susan Larson - Director of Certification, Lynn Anderson - CEO, Mathew Parker and
Debbie Mason - Certification Manager.

Back to top