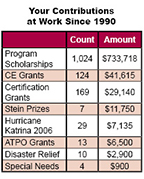 The Foundation made great progress this past year in assisting individual's with seeking their certification and continued education. The Foundation mission will assist all of us in obtaining more highly qualified ophthalmic medical technicians in the work place. Something we all will benefit from! Please help support this great mission! Click here to DONATE NOW! Click here to view the brochure.

Scholarship information for fiscal year 8/1/2012 – 7/31/2013
• Nine Certification grants totaling $1,400 awarded
• Three Continuing Education grants totaling $760 awarded
• 111 Program Scholarships awarded totaling $36,390
• Total Scholarships & Grants awarded: $42,875
• Virginia Boyce Service Award Recipient: Corinthia Worrell, COT

2014 Deadlines for Scholarship and Grant Applications
• Certification - April 25
• Virginia Boyce Award - May 2
• ATPO - July 31
• Harold A. Stein Paper - July 31
• Continuing Education - July 31

Click Here for Foundation Scholarship and Grant Information.

The Foundation is thrilled with interest internationally in developing eye care teams so that adequate eye care can be delivered to individuals in need. They will continue to offer scholarships and grants to individuals who are seeking continuing education and certification as an ophthalmic medical technician.
The Foundation will host a silent auction at the 2014 Annual Continuing Education (ACE) Program. The auction will help raise funds for future scholarships and grants. The silent auction will be held at the Bookstore on Friday, October 17th at the Hilton Chicago Hotel. If you have an item(s) you would like to donate for the auction please notify Stacey Brown at sbrown@jcahpo.org.


---