From the President
Around the JCAHPO office, fall is our favorite time of year... it brings with it the anticipation and excitement of the Annual Continuing Education (ACE) program, Ophthalmic Medical Technician's week, World Sight Month, an extra hour of sleep, Thanksgiving, and more.
Preregistration for the 40th ACE program, November 9-12, ends soon. If you miss preregistration, you can still register onsite at the Hilton Chicago Hotel, starting November 9.
World Sight Month is observed during October and JCAHPO has an exciting community event planned in Minnesota! On October 24th, from 6:30-8:30 pm at the Central Park Amphitheatre, 8595 Central Park Place, Woodbury, MN, we are hosting a FREE community premier of the film Going Blind. I invite you and your ophthalmologists to attend this important event . We know that many of you will not travel to Minnesota, so later in the year, we will also be showing the film as a FREE webinar, for those of you not able to attend the premier. Information on the webinar will be sent at a later date.
To hear Joe Lovett in person, the writer, producer, and director of Going Blind on Monday, November 12th, be sure to register for the Stein Lecture when you send in your annual meeting registration. One lucky person will win an autographed copy of Going Blind. Given the aging population, the increasing prevalence of low vision in our society, along with four times more veterans coming home with significant eye injuries than with lost limbs, it is of utmost importance that we all understand sight loss and work towards a better future. Going Blind encourages and inspires people to take action to preserve, prolong, and maximize the precious gift of sight - for themselves, their loved ones, and society. See what others are saying about the film here!
Ophthalmic Medical Technician's week is November 4-10. Last year, many of you shared your pictures and stories on our Facebook wall of how you celebrated in your office. We encourage you to do the same this year! If you'll be joining us in Chicago, we'll celebrate with you there! Read the article below to learn how some ophthalmic students in Texas participated last year.
In the last issue of Eye Lights we announced new discounted certification exam fees for veterans and government personnel. Sunday, November 11, is Veteran's Day and we'll be honoring our ophthalmic personnel who are veterans. Military personnel and Veterans, if you'll be in Chicago with us, I encourage you to wear your uniform that day!
We look forward to seeing you & celebrating all of these important events with you while in Chicago!


ACE 2012
Chicago, Illinois, November 9-12
While in Chicago, be sure to drop off your door prize ticket (included with your name badge at pick up) in the bookstore to be eligible to win an assortment of daily door prizes! We'll also be playing "Vendor Trivia" this year with all of our exhibitors. By playing and answering the trivia questions correctly, you are eligible to win great prizes including an e-reader, local restaurant gift cards, a Hilton® bathrobe, JCAHPO bookstore gift certificates, certification gift baskets, and much more! Be sure to LIKE us on Facebook and print the coupon to use onsite for bookstore purchases. Come & visit us and our NEW exhibit booth in the exhibit hall at McCormick Place-we'll be in booth 430!
If you missed our video invite to the annual meeting, watch it now or view the top 10 reasons to attend!


New CEC Application & Fees
Effective January 1, 2013
Revisions include:
- 1:1 basis per 50-minute course
- Three categories: non-profit; for-profit clinic/academic; for-profit industry
- Two-year approval on Distance Learning and Enduring materials
Ophthalmic Medical Technicians Week
(reprinted with permission from SJC)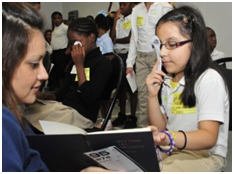 Last year, San Jacinto College ophthalmic medical students helped hundreds of school children receive free examinations and eye glasses during Ophthalmic Medical Technicians' Week, Nov. 6-12.
SJC students teamed up with Houston eye care professionals for the See to Succeed program, an initiative that provides first-12th grade students across the Houston metroplex region transportation to the West End Health Center to receive free screenings, examinations, and a fitting for a pair of glasses to be customized and delivered to their schools at a later date.
Partners in the program included the Houston Department of Health and Human Services, San Jacinto College, University of Houston College of Optometry, Essilor Vision Foundation, Wal-Mart, Berkley Eye Center, Luxottica Group Foundation, Eye Care for Kids, and Memorial Area Assistance Ministries.
"Experts say there is a prevalence of 25% of all school children in the United States who need eyeglasses," said Debra Clarke, COT, ophthalmic technician program director at San Jacinto College. "Vision problems are directly linked to literacy, and literacy is directly linked to prison population. We need to catch vision problems early on, so that a child's literacy improves, and in result, improves his or her school and college education."
The See to Succeed program also gives future eye care professionals, like Sabrina Smith, a chance to apply what they've learned while working toward an associate degree in the SJC eye care technology program.
"Hands-on training through the See to Succeed program is amazing," said Smith. "Projects like See to Succeed and the two clinicals that are required for all students, are very helpful in preparing us for when we enter the field alone."
Ophthalmic medical technicians are expected to experience an employment growth of 15 percent throughout the decade, faster than the average for all occupations, according to the U.S. Bureau of Labor Statistics.
The eye care technology program at San Jacinto College enjoys a 100 percent job placement rate and is the only accredited ophthalmic technician program in the state of Texas.
Upcoming CE Events
ASCRS registration opens October 10!
April seems like a long way out, especially when this issue is full of anticipated fall events; however, housing for the ASCRS/JCAHPO Technician & Nurses program is already open and registration will open on October 10th! Join us in San Francisco, California, April 20-22, 2013 for three days of intermediate to advanced continuing education sessions. Prior to the T & N program, ATPO will be hosting certification exam review session on Friday, April 19, 2013. For more details, visit the ASCRS website.
For a listing of all upcoming CE events, view the calendar.
E-Learning Update
We've been busy in the E-Learning Department at JCAHPO, lining up presenters and scheduling live webinars into mid-2013! Most webinars will now be available for registration approximately six weeks prior to their live broadcast date, instead of the current one or two. Due to the high volume of requests for some of our most popular webinars, JCAHPO is now re-releasing previously recorded webinars once per month for you to view!

Webinars are a great way to gain extra CE credits from your home or office. Attending live offers the opportunity to interact directly with the presenter, via audience polling questions and direct question and answer sessions. Our presenters can even playback video or directly share their computer screen during the webinar.
Can't make the live event? You can watch the recorded webinar, and take the quiz, up to a week after the live event! The JCAHPO and ATPO webinars have been attended by over 7,000 people since we first began offering them in late 2009. Go to the JCAHPO Webinars page to learn more.
Responses on "Five Diplopia Pearls That Can Make a Difference"
"What a great lecture of what to check and why we check it in these diplopia problems that present. I feel like I am so much better equipped to check my patients, and I have been a tech for 10 years. I check these things, but this just brought it all together. Thank you!"
"I am the on-call tech for our department so my job is phone triage for patients before making urgent appointments. These lecture points are very relevant to my position in our department."
"Excellent presentation. Very informative. One of the best so far.... all aspects of course were helpful."
Responses on "General Medical Knowledge and Terminology"
"Having a general review helps confirm that I am using terms correctly as well as giving an MD view of why things are done for patients in a certain way. It is always good to hear standard of care from a physician outside your practice."
"I worked in an adult retinal clinic, and I am new to pediatrics. This week we had a patient we saw who had DSAEK. I did not know what that was, so this webinar was helpful. I also enjoyed the cornea segments. The pictures in the webinar were very useful!"
"I felt that the entire webinar was useful. As a tech starting in ophthalmology is nice to get useful information from these."
Responses on "Scribing in EHR"
"Our office is just now reviewing different EHR systems, so it is all very confusing to us at present. We are excited to get started though, so I am glad this course was presented to give me some insight into what we will be doing."
"The aspect of the course that was most useful to me was the ability to be able to go back and watch the webinar again. It enabled me to pick up on things that I missed the first time around or get a better understanding of what my job entails. Also the Q&A's at the end of the webinar had some helpful information I didn't think of."
"The clarification of some coding guidelines, as well as an emphasis on what the medicare prescribed roles are of a doctor/scribe. It certainly has opened up some avenues that will need to be discussed as far as our workflow which will need to be discussed."
Did You Know?
Have you ever tried to access ACTIONED courses or webinars using your iPhone, iPad, or iPod Touch only to find out that these devices don't support Flash video or content? Well, now you can! An iTunes app is now available that allows you to view Flash content on mobile devices! Puffin web browser uses remote Flash execution technology so you can now play Flash video and content on your iPhone 3GS, iPhone 4, iPhone 4S, iPhone 5, iPod touch (3rd, 4th, and 5th generation), and iPad. (Requires iOS 4.3 or later.) You also have the convenience of choosing between mobile mode or full screen, which is not an option in most web browsers.
We tested the app and it works great on JCAHPO's Learning Systems interactive simulations and ACTIONED video courses. The free app gives you two weeks of free trial. The full app costs only $2.99. Give it a try-we think you'll like it!
New JCAT Exam
Along with the recent release of the new 9th edition of the The Ophthalmic Assistant (which includes a FREE online version!), comes a revised JCAT exam. JCAHPO's Ophthalmic Assistant Career Advancement Tool (JCAT), is a convenient way for eager, career-minded personnel to become familiar with the responsibilities of an ophthalmic assistant and become eligible to take the COA level examination.
The JCAT package includes the 9th Ed. of The Ophthalmic Assistant and 175 quiz items that test comprehension, as well as a study plan & helpful study tips. Order yours today!
Tech Life
by Corinthia (Cory) Worrell, COT
Marketing Director/Surgery Scheduling Supervisor
Cape Fear Eye Associates, PA, Fayetteville, NC
In March 2011, I had the opportunity to meet Terri Thomas from the Vision Resource Center, who soon became my inspiration and would change my life and direction. Terri and I had spoken regarding a program for visually impaired children. It was sad to discover that most of these children were put in special needs classes; home schooled, or would never leave their homes. At the time I met Terri, there were only three students who came to the center on occasion, but no direct program was formed. After meeting one of the students, Michael Macias who had been blind since 4 months of age due to (ROP) Retinopathy of Prematurity, my life would soon be changed.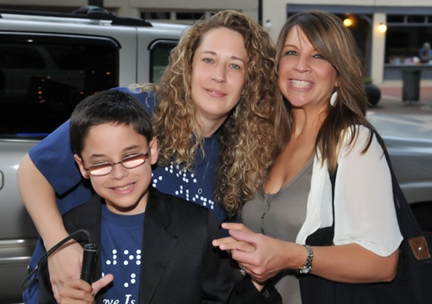 Michael Macias, his mom Angela, and Cory.
Michael had an amazing gift of music. He could hear something only one time and not only play the music, but within minutes could compose his own masterpiece. It was that day I decided to dedicate any free time to educate the community of the need of a program for visually impaired children, as well as share Michael's amazing gift. By incorporating my marketing contacts, Terri's enthusiasm for the Vision Resource Center and Angela's (Michael''s mother) knowledge of non-profit organizations and her contacts in the school system, the three of us traveled monthly to different venues and spoke on the importance of this program reaching out to visually impaired children and their families throughout the Greater Cape Fear Region.
In October 2011, we had our first official "Youth Gathering" at the Vision Resource Center, with about twelve children in attendance. The goal of our youth program was to take these kids on monthly field trips on an adventure, something completely out of their comfort zone and challenge them. We presented our program for funding in October and in December received a grant. It was the greatest gift we could ever receive!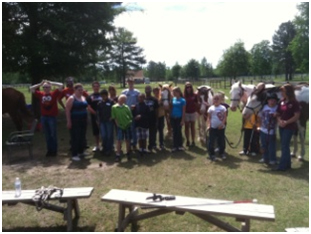 Some of the trips we have taken thus far are bowling, rock-climbing, horseback riding, Maze Day at UNC Chapel Hill, self-defense classes, and deep-sea-fishing. In July, we attended a week long summer camp at Camp Rockfish where we took the kids canoeing, swimming, and hiking and learned about different animals and plants.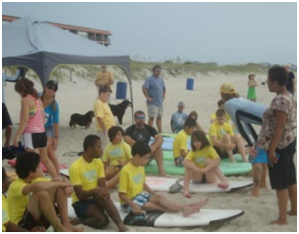 In August, the kids went surfing through the "Ocean Cure Foundation" and then to the Fort Fisher Aquarium. In October, several private pilots will be donating their planes and time to educate the kids on the different types of planes and take the kids and their family for a short ride around the Fayetteville area.
We started off with 3 students, and we now have 30 registered (ages 8 to 17) and continue to grow monthly. I have watched these kids go from shy, quiet, and insecure, to these amazing outgoing, crazy, confident children who do not let their disability get in the way of accomplishing their goals. They have been a true inspiration to me!
Now, thanks to the continuing generosity of our community and our small grant, we have teamed up with the Division of Services for the Blind "Transitional Program", which teaches our children ages 14 and up, social skills, job training and placement, career exploration, as well as counseling and financial aid for college,

so now our youth program is complete.
Our goal for the future is to have our own "Youth Center" which will offer different educational programs to include Braille classes and healthy living programs, as well as self defense classes. We are also in the process of forming a program for ages 19 to 30, for our older youth that will soon graduate.
I have been truly blessed since that first day I met Michael, and am very fortunate to work for a company that has supported me and allowed me to incorporate my passion for helping the visually impaired children of this community into my daily job.
I would like to encourage any visually impaired children in this region to join our youth program at the Vision Resource Center!
What an inspiring story Cory! Thanks for all you do from all of us at JCAHPO!
If YOU are interested in volunteering, please contact Terri Thomas at 910-483-2719. For questions regarding any of these programs, please contact Cory directly at cworrell@capefeareye.com (Photos courtesy of Vision Resource Center and Ocean Cure Foundation)
Do YOU have a story to tell? If so, let us know what you're doing and we just might include it in an upcoming issue of Eye Lights!
Staff Corner
The staff at JCAHPO and ATPO have worked tirelessly these past 40+ years to bring the highest level of service and support to our members. We would like to give you the opportunity to get to know the people who handle certification, continuing education, administrative support, and organizational management a little bit better through our ongoing 'Staff Corner' newsletter segment. In this issue we introduce you to JCAHPO's Accountant and Database Manager.
Laurie Timp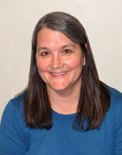 Laurie is the Accounting Manager for JCAHPO & ATPO and has been with the organization for 13 years. In addition to her accounting responsibilities, she also manages the JCAHPO bookstore, including the onsite bookstore during the annual meeting! Laurie has two children that keep her very busy with all of their activities and on Sunday's during the fall and winter, she can be found rooting on the Green Bay Packers! Her loyalty, hard work, and sense of humor make her a joy to work with.
Favorite quote: "Treat others as you want to be treated."
Cindy Pride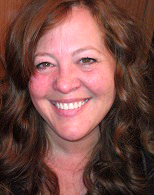 Cindy has been the Database Manager for JCAHPO & ATPO since 2008. She is responsible for the integrity of the databases, statistics, and reports for all of the departments, as well as online processes on the JCAHPO website. Cindy manages the Annual Meeting onsite registration process and is the person in the office we all run to when our computer or internet goes down! Some of her favorite things to do when not working are pottery, camping, and bonfires. She is caring, outgoing, and inquisitive and her laugh is contagious!
Cindy's favorite quote is one of her own: "To my children: I love you more than a sideways 8!"