From the President
Novelist Leo Tolstoy is quoted as saying, "Spring is the time of plans and projects." Truer words have never been spoken in the JCAHPO office.
Our many volunteer committees have spent countless hours planning new and exciting projects to enhance your learning experience, improve your testing experience, encourage your career growth, simplify your ability to order products and books, and grow your online CE opportunities.
Here are just a few of the projects we're working on for you in 2013:
- An updated JCAHPO website with a new online shopping cart
- ACTIONED® enhanced web site and new courses
- Mobile apps
- Ophthalmic Surgical Assisting independent study course
- Online certification exam study guides
- Two new Certificates of Completion
Planning is also well underway for the 41st Annual Continuing Education Program, which will be held November 15-18, in New Orleans, LA. We are thrilled to be returning to the "Big Easy!" Be sure to visit the ACE website regularly, as new information will be added frequently.
Education News Need CE Credits? We've got you covered!
ASCRS/JCAHPO Nurses & Technicians program
Join us in San Francisco, California, April 20-22, 2013 for three days of intermediate to advanced continuing education sessions. For more details, visit the ASCRS website. Prior to the T & N program, ATPO will be hosting certification exam review sessions on Friday, April 19, 2013. Register here by April 9 for the review sessions!
JCAHPO CE Programs & Webinars
CE program locations being offered this quarter include San Antonio TX; Vancouver, BC, Canada; Kiawah Island, SC, and Palm Beach, FL. For your convenience, we also offer three webinars each month! For a listing of all upcoming CE events and webinars, view the calendar.
Low Vision Certificate of Completion is now available!
A 2012 report co-sponsored by the National Institutes of Health estimates that 2.9 million Americans are living with low vision. This number is projected to increase 72 percent by 2030 when the last of the baby boomers turn 65.
By successfully completing the Low Vision Certificate of Completion, you take one more step in a successful career in ophthalmic assisting, increase your professional image, and add to your earning power. You will also be awarded seven (7) JCAHPO Continuing Education Credits to use towards your core-level JCAHPO recertification.
You can take great pride in helping visually impaired individuals lead productive and independent lives! Become the low vision resource expert in your office! Download the Order Form now!
Ophthalmic Coding Specialist (OCS)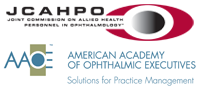 The Joint Commission on Allied Health Personnel in Ophthalmology (JCAHPO) and The American Academy of Ophthalmic Executives® (AAOE), the practice management arm of the American Academy of Ophthalmology, are partners in offering the Ophthalmic Coding Specialist™ (OCS) Exam. The exam is available on JCAHPO's e-Learning website.
The OCS Exam is designed to educate and thoroughly test the coding knowledge of professionals in ophthalmology. Anyone working in ophthalmology will benefit from taking the online exam. Earn CE Credits in the process! The OCS Exam has been awarded 4 JCAHPO Group A CE credits and is only $175 for new/renewing or retakes. Once you have successfully completed the exam, show off your new "OCS" credential on your name badge and business cards.
Top 5 Reasons to Get or Renew Your OCS Designation
- Reassure yourself that your coding knowledge is up to date. Know that you are keeping up with constantly changing codes.
- Expand your knowledge and enhance your understanding. Test your skills against an exam designed by national experts.
- Receive national professional recognition. Be recognized for your expertise and proficiency.
- Enhance the financial health of your practice. Turn clinical services to practice income and stay in compliance.
- Improve your career qualifications. Demonstrate mastery of coding and be more competitive in the job market. For more information visit the OCS page on AAOE's website.

Eye Drop Instillation by
Qualified Technicians
Eye drop and ointment instillation is a task typically performed by ophthalmic medical personnel who are well-trained and/or certified. However, some states (such as New York), some hospitals, and the Joint Commission, which regulates accreditation of hospitals (not JCAHPO's Joint Commission on Allied Health Personnel in Ophthalmology), are implementing regulations and policies where only licensed medical personnel are allowed to administer eye medications in all patient settings.
These regulations and policies severely limit the ability of the ophthalmologist to delegate this task. While intentions for patient safety are good, restricting the ability to delegate ophthalmic tasks to qualified ophthalmic personnel creates the potential of decreased quality and access of care for patients.
JCAHPO is committed to training ophthalmic medical personnel on the instillation of eye drops and ointments. Our Certification Committee also recently developed a Standards Checklist for both eye drop and ointment instillation which can be used for training and testing. William Ehlers, MD, recently conducted a webinar on this important topic and the recorded version will soon be available on www.actioned.org. Access the checklists here by clicking this link and to read the article in it's entirety, click here.

CMS Order Entry Rule Impacts
Ophthalmic Personnel
Donald A. Balasa, JD, MBA
Executive Director, Legal Counsel
American Association of Medical Assistants
March 2013
Effective January 1, 2013, the Centers for Medicare and Medicaid Services (CMS) issued a final rule about which allied health personnel can enter orders into the electronic health record (EHR) to show meaningful use under the Medicare and Medicaid EHR Incentive Programs. The new CMS ruling decided that licensed health care professionals and "credentialed medical assistants," who are certified by an organization other than the employer, would be permitted to enter orders into the "computerized provider order entry" (CPOE). The new CMS ruling is legally defensible to assert that certified ophthalmic personnel are allowed to enter orders into the electronic health record for calculating compliance with the meaningful use requirements of the Incentive Program. This CMS rule reflects a significant departure from previous federal requirements, affects ophthalmologists, and should have a positive impact on certified ophthalmic personnel. Read the full article here.

(Read the full CMS ruling as published in the Federal Register)
New CEC
Application & Fees
Effective January 1, 2013
If you are applying for CE credits through JCAHPO for a course, seminar, webinar, etc., be sure to read and download the newly revised Criteria and Application for Continuing Education Providers.
Some of the revisions include:
- 1:1 basis per 50-60 minute course
- Three categories: non-profit; for-profit clinic/academic; for-profit industry
- Fee increases
- Webinars reclassified as Distance Learning
- Two-year approval on Distance Learning and Enduring materials
- Instructor Code of Conduct


Utah Regional CE
Program Update
Thank you for another successful Utah Regional CE Program! We were delighted to join 209 of you for a day filled with superior speakers and lectures, as well as a fabulous keynote lecture from Dr. Andrew G. Lee!
Costa Mesa, CA, Regional
CE Program Update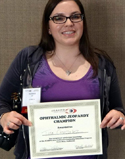 We had a lot of fun during the March 16 Costa Mesa, CA, regional CE Program! 150 attendees joined us for a day of great speakers & lectures and the first ever JCAHPO Ophthalmic Jeopardy! Congratulations to Tina Gonzalez on being the first "official" JCAHPO Ophthalmic Jeopardy Champion! Shellee Rockwell also earned our congratulations for taking down 2nd place. Thanks to all the players for being brave enough to get up on stage and play and also to the scorekeepers!
Rochester, MN (Mayo Clinic) Regional
CE Program Update
More than 250 ophthalmic medical personnel joined us at the Mayo Clinic in Rochester, MN, on Saturday, March 23! The program was filled with excellent speakers and courses and attendees were able to earn up to 7 CE credits for the day. If you missed it this year, mark your calendar for the 2014 program on Saturday, March 22!!

Certification Update
Newly Revised Criteria for Certification and Recertification Manual
The 2013 edition of the Criteria for Certification and Recertification is now available! We hope you'll find the new publication more user-friendly to aid you in your pursuit of certification and recertification. You'll also find the subspecialty certification guidelines here for OSA (Surgical Assisting), including the NEW Ophthalmic Surgical Assisting Independent Study Course, as well as the criteria for additional certifications of CCOA (Corporate), ROUB (Ultrasound Biometrist), & CDOS (Diagnostic Sonographer).
Retirement Credential
Did you know that certified individuals retiring from the eye care profession may be eligible to receive and use the retired credential, e.g. COA (Ret)? If your certification has been in good standing (not revoked) for the last 10 years and you do not plan to continue to receive payment for serving in the eye care field, you can! Volunteer work is acceptable. Details about the credential requirements are listed in the NEW Criteria for Certification and Recertification Manual.

Foundation Facts
Since 1991, the JCAHPO Education and Research Foundation has awarded $743,490 in 890 scholarships and grants to students in training programs; continuing education (CE) scholarships to attend JCAHPO or ATPO sponsored CE programs; and certification scholarships to assist with examination fees for those wishing to enter or advance in the field.
See what we're doing and how you can get involved!

Tech Life
From GED to college degree

Laurie K. Brown, COMT, COE, OCS, OSA is one busy woman! Administrating a busy practice is a challenging task, especially when you understand that Laurie also lectures at numerous meetings throughout the year and sits on the board of several ophthalmic organizations, including JCAHPO and OWL. However, it is easier with the right tools, knowledge, and determination. Laurie is the perfect example of this.
Over the last four years, she has completed her Bachelor of Arts degree in Business Administration and graduated Summa Cum Laude this past summer thanks to the generous support of Drs. Fine, Hoffman, Packer, and Sims. She then immediately began work toward her Master's Degree! Her on-the-job training, JCAHPO and ASOA certifications, and many years of work as an ophthalmic technologist helped her to achieve a significant portion of her college credit and have taken her from a GED to a college degree. Laurie takes online & night classes while also working full time. Her extraordinary clinical skills and keen knowledge of business help support Drs. Fine, Hoffman and Sims to focus on their patients' eye care needs.
Congratulations Laurie from all of us at JCAHPO!
Do YOU have a story to tell? If so, let us know what you're doing and we just might include it in an upcoming issue of Eye Lights!

ATPO Corner

DISCOUNTED ATPO GROUP MEMBERSHIP!
Deadline extended for special pricing until April 8, 2013! Did you know that three or more technicians who work in the same clinic can join ATPO as a group membership for $55.00 each? (Regularly $65.00 pp). Click here for more details.
Join as a new* group membership today and you will be eligible for a drawing to win a free pizza lunch for your new ATPO group members. There are no gimmicks or hidden agendas... Just $10.00 off the first year of each membership and the opportunity to earn five free CE credits. Join us today!
* New clinics: Three or more members in the same clinic who have not been a group member in the last three years.

Staff Corner
The staff at JCAHPO and ATPO have worked tirelessly these past 40+ years to bring the highest level of service and support to our members. We would like to give you the opportunity to get to know the people who handle certification, continuing education, administrative support, and organizational management a little bit better through our ongoing 'Staff Corner' newsletter segment. In this issue we introduce you to JCAHPO's certification team.
Debbie Mason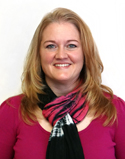 Debbie Mason is the Certification Manager and has been with JCAHPO for more than 11 years. Debbie recognizes the importance of certification in the industry better than anyone and knows how important it is to all of the certificants. She takes pleasure in helping you achieve your goals and dreams.
When not working, Debbie can be found in the company of her family, friends, and her dog, Barkley.
Favorite quote/motto? The Golden Rule. "Treat others as you'd like to be treated."
Sheng Yang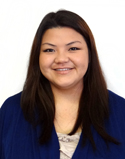 Sheng Yang is one of two certification department Administrative Assistants who takes your calls all day long and processes all those recertification applications! She has been part of the "cert team" for two years and says she still learns something new every day. If you've ever talked to Sheng on the phone, you know how patient and caring she is. She loves helping all of you stay certified!
Sheng enjoys scrapbooking, cooking, volleyball and just spending time with her family.
Favorite quote/motto? "Be the change that you want to see in the world" -Ghandi
Wendy Lee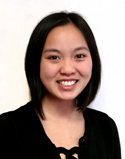 Wendy Lee is the other certification department Administrative Assistant who takes your calls all day long and she processes all of the certification applications! Wendy will be celebrating her second anniversary with JCAHPO this year and really enjoys her job, her coworkers, and talking to all of you. The amount of applications she receives in one week doesn't daunt her - she processes them all with a smile and an energy level that never quits.
Wendy takes delight in enjoying a hot summer day while sipping on a smoothie and in the fall can be found watching football on Sunday afternoons.
Favorite quote/motto? "Anyone who has not made a mistake has never tried anything new." - Albert Einstein