President's Message


| | |
| --- | --- |
| | Congratulations! We are pleased to announce JCAHPO's new President for 2015-2017, Eydie Miller-Ellis, MD, glaucoma specialist, Professor of Clinical Ophthalmology and Director of Glaucoma at the Scheie Eye Institute, University of Pennsylvania. |
Greetings,
I am honored to serve as JCAHPO's 24th President, and continue its legacy of providing high quality education and exceptional standards in awarding the professional certification credentials at JCAHPO's three core certifications and four specialty credentials. JCAHPO has many new, interesting learning and assessment programs available. Three programs that you won't want to miss are: the upcoming Annual Continuing Education (ACE) program in Las Vegas in November, JCAHPO's new Ophthalmic Scribe Certification (OSC), and the soon to be launched new online course on ICD-10. I invite you to check out JCAHPO's many regional programs, online and distance education programs that are available. With the continuing changes in our health care environment and demands for improved treatments and technologies, I encourage you to embrace your profession and lifelong learning through JCAHPO's continuing education programs and assessments. Our patients deserve our best care possible with top skilled eye care professionals.

Best regards,
Eydie Miller-Ellis, MD
Visit our website to view our new JCAHPO Board of Directors.
Education and E-Learning
2015 Annual Continuing Education (ACE) Program
Make plans NOW to join us in Las Vegas, November 13-16! Important dates to add to your calendar:
NOW!

Registration is Open! - Save up to $140 when you register by Sept. 4th

!
NOW!

Housing is Open!

- Special room block just for Techs at Planet Hollywood!
Sept 5
Registration fees increase!
Oct 4
Deadline for pre-registration, changes, and cancellations
Nov 13-16
Onsite Registration at Planet Hollywood
The meeting website will keep you updated on important information you'll need to ensure a worry-free experience. Find housing links and answers to most of your questions at: http://www.jcahpo.org/ace2015/.
---
A handy collapsible water bottle is the perfect accessory for a busy Technician. It holds up to 18 oz. of water and folds flat for easy storage. For a $5 donation to the JCAHPO Foundation, plus the cost of shipping, the water bottle can be yours and your donation will be matched by JCAHPO. You can double your donation to support grants and scholarships for Technicians' continuing education and certification exams, and to advance their careers.

The water bottles will be available for sale at the bookstore at ACE and attendees can purchase one when they register. A great way to stay hydrated in the desert.
---
Can't make it to Las Vegas? No problem! JCAHPO also holds monthly regional CE Programs throughout the year at various locations across the country. This quarter, we will be hosting programs in Myrtle Beach, SC, and New York City, NY. Regional meetings are a fun, convenient, and cost-effective way to earn continuing education credits at a location near you.
E-Learning Buzz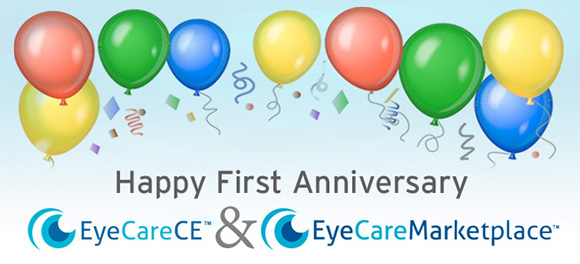 EyeCareCE.org and the EyeCare Marketplace celebrated a one-year milestone this summer! With more than 300 online courses in a variety of formats to choose from, EyeCareCE continues to be the most comprehensive on-demand, online continuing education website available.
EyeCare Marketplace is the JCAHPO Store for one-stop shopping on books, products, merchandise, Foundation donations, and more!
---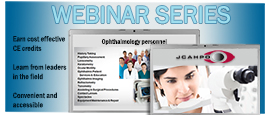 Needing some additional CE Credits? Every Tuesday, JCAHPO hosts a one-hour webinar on various topics in eye care. Presented by leading industry professionals, the JCAHPO webinars enable you to gain valuable knowledge and skills and are an innovative and timely way to earn your continuing education credits online. View a list of all upcoming webinars.
---
Contact Lens Health Week, August 24-28, 2015
On Monday August 24, @CDCgov will host an hour-long twitter chat at #HealthyContactsChat from 12-1pm ET. Confirmed participants include HHS Office of Women's Health, FDA Medical Devices, National Eye Institute, and others. Plan to join them!
One thing we'd especially like to highlight are printed posters for your office and tear-off pads that can be sent with your contact lens-wearing patients. These can be ordered for FREE from the CDC. Be sure to take advantage of this great benefit!
Follow us on Facebook all week long (Aug. 24-28) for daily contact lens-related posts!
Certification News

NEW! Ophthalmic Scribe Certification

Since its debut in April, more than 2,800 OMP have earned the Ophthalmic Scribe Credential! The new OSC certification meets the CMS Rule with its 125-item Ophthalmic Scribe Certification examination. The open resource examination content covers History Taking, Ophthalmic Patient Services and Education, Ophthalmic Terminology, Medical Ethics and Legal Issues, and Medical Notes/Records. Once passed, scribes are certified for three years.
The OSC examination can be accessed on EyeCareCE – cost is $20 for JCAHPO certified candidates, $40 for non-certified candidates, but who are ATPO, ASRS and AAO/AAOE member sponsored, or $60 for non-certified candidates.
Back to top
Foundation News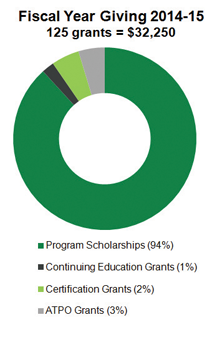 This past year, the Education and Research Foundation awarded $38,980.00 in scholarships and grants to more than 130 students in training programs, 3 continuing education grants, and 16 certification grants. That total also includes the Virginia S. Boyce Humanitarian Award, the Harold Stein Award for Scientific Paper, and the ATPO continuing education grants.
---
Effective August 1, the Foundation said farewell to some board members and hello to some new members. Steven Lichtenstein, MD, who had served as Vice President and Krissa Drentlaw, COT, who had been serving as a Director, completed their terms on July 31st. Michelle Willis, COMT, has joined the Board serving in a Director's role, Michelle Herrin, COMT, CO, will move from the role of Director to Vice President.
---
The JCAHPO Education and Research Foundation is pleased to announce that Local Eye Site will fund a new scholarship for Ophthalmic Medical Technicians seeking certification. The application period will run from August to November and Technicians seeking certification will be able to apply by completing an application form and submitting a brief essay or video. The grants will be awarded in January 2016 and cover the cost of a certification exam. Read the Press Release.
---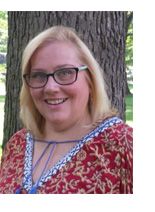 The Joint Commission on Allied Health Personnel in Ophthalmology's (JCAHPO) Education and Research Foundation is pleased to announce the 2015 recipient of the Virginia S. Boyce Humanitarian Award: Beth Colon, Certified Ophthalmic Technician (COT). The Virginia S. Boyce Humanitarian Award was established in 2000 in honor of Virginia Boyce, CEO of Prevent Blindness from 1972 to 1982, who gave eighteen combined years of devoted volunteer service to JCAHPO and the Foundation.

Beth was selected as the 2015 Boyce Award recipient in recognition of her many years of volunteerism. She has worked hard to support eye care technicians locally and also served with enthusiasm in Latin America. She has been a long time member of the Association of Technical Personnel in Ophthalmology and served in leadership roles in Cleveland Ophthalmic Personnel Society. Beth has participated in eight mission trips to El Salvador to provide eye care to villagers in remote areas. She also spent a month in Guatemala working with a local orphanage.
---
In July, a new website for the Foundation was unveiled. A highlight is the online giving portal, making it easier than ever to donate to the Foundation! There is a list of scholarships and grants that will be available starting in 2016. Check the website out when you have a chance!
Back to top
ATPO Corner

The 2015 National Salary & Benefits Survey
The 2015 National Salary & Benefits Survey for Ophthalmic Personnel, which is compiled by the Association of Technical Personnel in Ophthalmology, Inc. (ATPO®) in collaboration with the Joint Commission on Allied Health Personnel in Ophthalmology, Inc. (JCAHPO®), has been completed.
Your responses and participation helps us to provide a comprehensive analysis of YOUR profession's salary and benefits! The full compilation of the report will be available for purchase this fall in JCAHPO's Marketplace.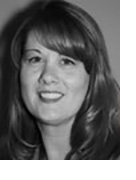 ATPO is pleased to introduce our new Board of Directors, including President Christine McDonald, COA, COE, ROUB. The new board took effect on August 1st.
Tech Life: Dianna Graves, COMT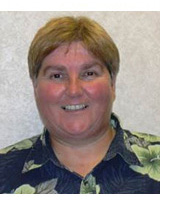 After graduating from the Regions Hospital School of Ophthalmic Medical Technology in St. Paul, MN, in 1983, I worked at a busy Level I Trauma Center for almost ten years as a General/Corneal and Diagnostic Technologist. During this time I also trained ophthalmology, ER, and Primary Care residents, as well as worked various OR/ER cases. My life was MACH 7 with my hair on fire – but I wanted more! I wanted to be a Supervisor/Manager!
I got the chance at a supervisor position at the VA and then as a supervisor back at the Level I Trauma Center for almost eleven years. Since 2003 I have been a manager in a large private practice group. WHAT was I thinking?! Being "just a technician" was a piece of cake compared to my days now!
I currently have a staff of 50+ technicians in an eight-office, fourteen ophthalmologist, and two optometrist practice in Woodbury, Minnesota. I am in charge of the technical schedules (vacation, clinical, diagnostic), as well as the Laser Vision Center. I am also involved with the doctor's out-of-office schedules. The hiring, and unfortunately sometimes firing, of staff, discipline, and guidance of the technicians, is never ending.
But my primary role is the education and development of not only the technicians we have here already, but with the new technicians that join our practice. It has been a goal of mine to ensure that all of the technicians are (or get) JCAHPO certified. We currently have 47 technicians with JCAHPO COA, COT, & COMT certifications and the rest are in training. I teach continuing education classes to the technicians after hours during the year, as well as coordinate their CPR training and any other training in OSHA safety, as well as anything else we deem the technicians need to become excellent care providers and solid clinical teammates.
I have a lot of help from my technicians. Each one of us has a strong role in the development of ourselves, as well as each other. We realized a long time ago that ALL of us need to be working as a TEAM to succeed as a group.
Because I am so passionate about education, training, and certification, between 15 and 20 times a year I also travel all over the country conducting CE courses for other clinics, hospitals, and conferences - both in ophthalmology and Optometry.
Oh…I also write for Ophthalmology Times (a standing monthly article "Putting It Into View") and Administrative Eyecare magazines.
When people ask me to describe my work day – I stop to think where I have "been" and all that I still would like to achieve as a manager, as I realize that it is a never-ending task! I think fondly of the "old days" when I was "just a tech" and realize that everything I learned back then has made me who I am today. Knowledge is the strongest tool you have as a technician. Keep going - and keep growing !
Back to top